After the announcement of the eagerly awaited Samsung Galaxy Nexus running the latest Android 4.0, it's now time to turn our heads to the next main event, which is exactly a week away from now. Yes, we are talking about Nokia World, taking place in London, October 26, where the Finnish company will most definitely unveil their Windows Phone 7 devices.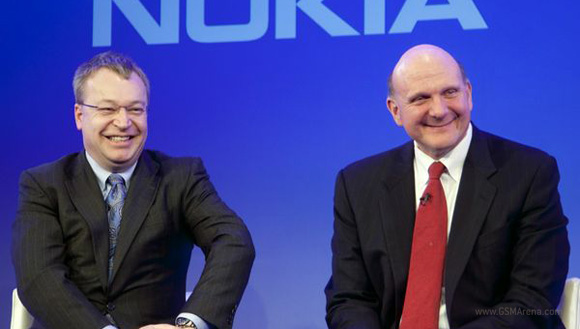 To start the hype ball rolling, Microsoft's CEO Steve Ballmer, while giving a talk at a Web 2.0 Summit, went on sharing his anticipation about the forthcoming Nokia Windows Phone 7 phones. He went on saying that Nokia "will have a chance at their Nokia World show next week to show a bunch of new devices running Windows Phone", adding later on, "It should be pretty good".
Now, we know from some leaks until now, that we really should be expecting more than one Nokia phone running Windows Phone 7, namely the SeaRay, Sabre and Ace, and the most recently leaked Nokia 800.
The eccentric Microsoft CEO also didn't miss to comment on yesterday's Android 4.0 Ice Cream Sandwich announcement, saying "it is very hard to be excited, for me, about the Android phones", Ballmer said, as he believes one has to be a "computer scientist". He also expressed his concern that Android's low price tag is hard to achieve, but Microsoft has been working to target this issue.
And here is how; the company plans to put two more chassis designs into production. As you know, currently Windows Phone 7 runs only on one chassis specification with a WVGA resolution, but in the very near future, two more chassis designs should come up, hopefully bringing more diversity in the WP7 world.
As the tweets above suggest, the first 480x320 chassis should make an appearance around the time Windows Phone 7 "Tango" update arrives, and the second one, which is what we are excited about, will sport an HD resolution of 1280x720 coming with the "Apollo" update.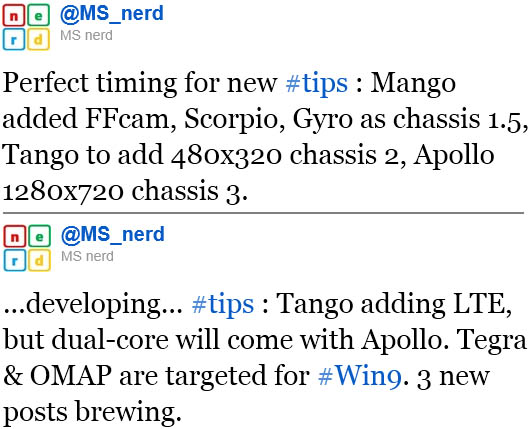 The tweets go on saying that the Tango update will add LTE support, but unfortunately, we'll have to wait a bit more for Apollo to arrive, which will bring with itself dual-core processor support. Let's hope Microsoft is not too late to join the quad-core party in the beginning of next year.
C
If you go that path i believe you really will bury Nokia. Having used WM 6.1 ... Iphone ... and now Android must say that by far it is the best user experience. There is no need to be a computer expert just a demanding user. Microsoft is at least two...
?
I disagree slightly, I am also an iPhone fan, but I am very optimistic about WP7, because it has one thing Android doesnt, which is Nokia, and they have proven to have interesting designs from time to time. I personally like the design of the N...
D
When your competitor talks about you then it is clear they are worried. I am not an Andriod fan for different reasons, but certainly they are cool devices. I played with some of them. No science needed. I am an Apple fan boy, and I get cold shivers w...
ADVERTISEMENTS