Samsung offers most of its premium phones with two different chipsets in different markets, leading to the inevitable comparisons year after year. Last year's Exynos 990 was a step behind the Snapdragon 865, especially in terms of battery life. This year the difference is far smaller if this latest batch of benchmarks is to be trusted.
Golden Reviewer ran the SPECint2006 benchmark on the best chipsets for the past 12 months, giving us a few interesting numbers to look at and compare. The benchmark determines a chipset's cluster of cores' power draw and performance rating.
Despite its higher clock speed the Exynos' Cortex-X1 big core scores 7% lower than the Cortex-X1 core in the Snapdragon 888. This leads to a performance per watt difference of 12% in favor of the Qualcomm chip. Looking at the cluster of 3x Cortex-A78 middle cores on both chipsets, the Exynos 2100 delivers 12% more performance, but at the expense of 52% higher power draw, making it 26% less efficient per watt.
Still if we use the benchmark to compare the Exynos 2100 to the Exynos 990 from last year and we see big improvements for the newer chip. The 2100's big core delivers 22% more performance and 34% higher efficiency.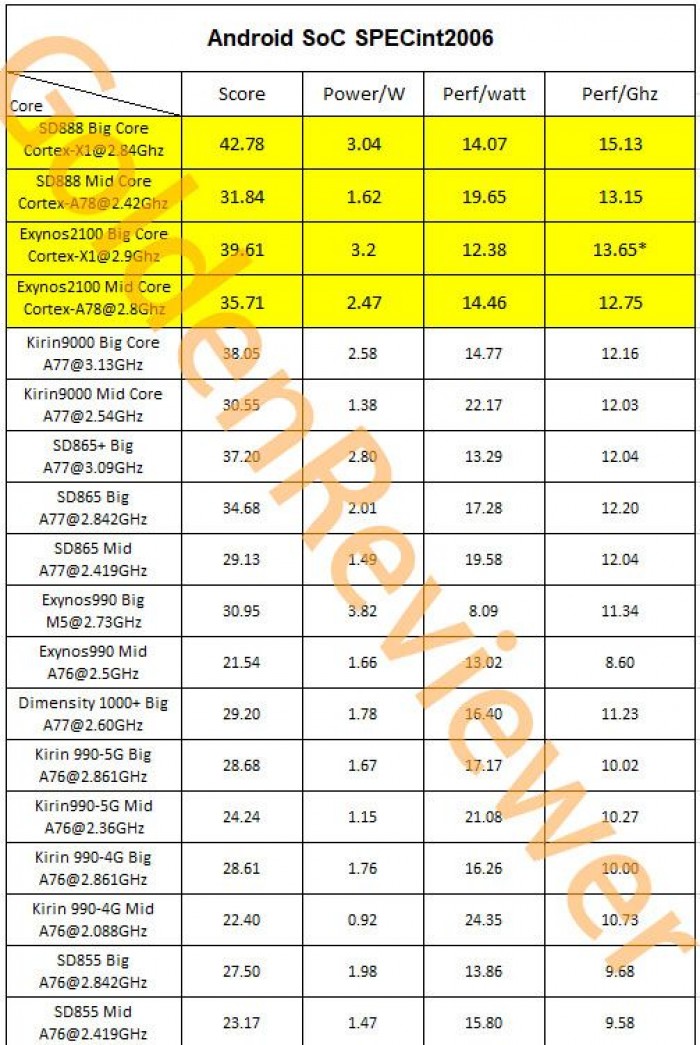 Moving on to a video comparison between a Galaxy S21 Ultra with the Exynos 2100 and the Snapdragon 888, which shows the processors swapping blows in different benchmarks. The scores are close, but the Exynos proves to be running ever so slightly cooler than the Snapdragon.
But the 888 has a big lead over the 2100 when it comes to frames per second in the graphics benchmarks. Samsung is looking to move away from the Mali GPUs it's been using in favor of AMD ones.
In any case benchmarks show an intangible difference between Exynos and Snapdragon-powered Galaxy S21 devices. Unlike last year, where some markets got a better performing chip, this year it essentially doesn't matter which version you get.
T
There are some points to consider in these comparisons: Exynos 2100 run hotter than Snapdragon 888, even idle temps of Exynos is higher than that of Snapdragon. The scores are considerably different, it is not negligible , the Snapdragon scores 6% to...
?
That half prices bun plus / realme will deliver better quality of life experiences and features than your overpriced iphun
ADVERTISEMENTS