The upcoming Samsung Galaxy Note 4 is said to come in two variants as usual, one running the Snapdragon 805 for the US market and the Exynos 5433 for the international market. But while the Snapdragon variant has traditionally been faster than Samsung's own chips, this time, it seems, Exynos has the upper hand.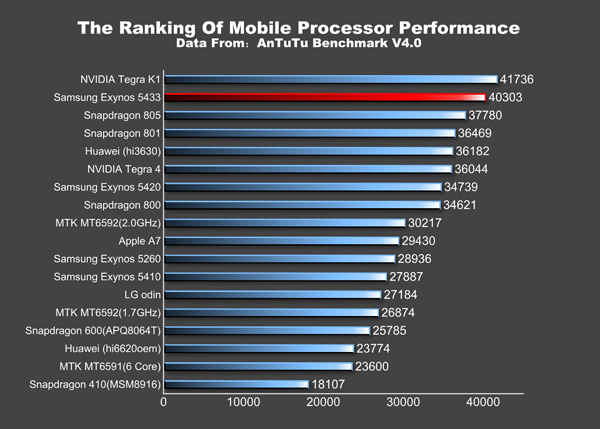 According to benchmark scores posted by AnTuTu, the Exynos 5433 scores overshadow those of the Snapdragon 805 (which itself is only slightly faster than the current flagship, the Snapdragon 801). The breakdown scores between the two chips show that the Exynos is faster in nearly every aspect.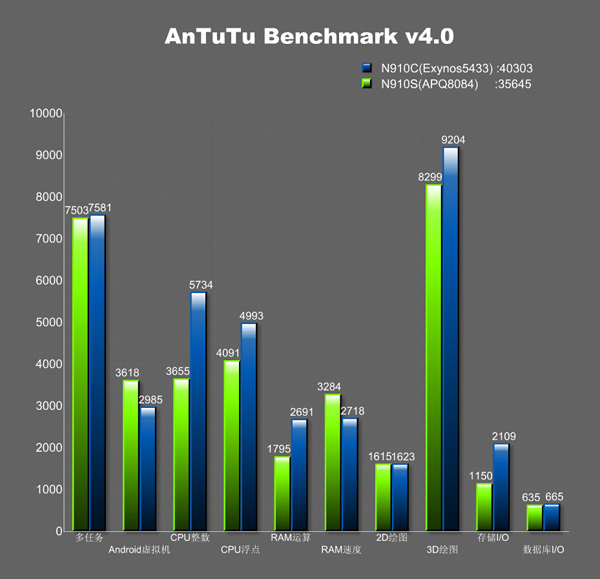 In the first chart the Tegra K1 appears faster than the Exynos but that is apparently due to the K1 device being tested with a 1920x1080 display whereas the Exynos 5433 was tested on a device running a 2560x1440 resolution display.
F
The 44k Antutu Scores on those phones are from Antutu V5 which is newer version with different tests and different scoring. All phones get higher scores with Antutu V5. This 40k score is with Antutu 4 and that is impressive score no matter how y...
A
The One plus One and Xiaomi Mi4 both score 41k and 44k on Antutu respectively... don't believe me..have a look below. http://www.gizchina.com/2014/07/23/benchmarks-wa­r-xiaomi-mi4-vs-huawei-honor-6-vs-oneplus-one/
D
So many excellent SOC's on the scene & The Exynos 5433 seems like another solid performer - While waiting for the Snappy '810', both the Allwinner A80 (48k on Antutu) & The upcoming MTK 6752 keep the quest 4 performance, very much alive &...