The Samsung Galaxy Note 4 is back at AnTuTu and this time there are benchmark scores. The Samsung N910C is powered by a Exynos 5433 (not to be confused with the Exynos 5430 found in the Galaxy Alpha), while the N910S is based on Snapdragon 805.
The new Exynos chipset moves to 64-bit processing with four Cortex-A57 cores and four Cortex-A53. Those are the successors to the 32-bit A15 and A7 respectively but implement the ARMv8-A instructions set (same as Apple's Cyclone cores). The Snapdragon 805 uses 32-bit Krait 450 cores.
The chipset also brings a new generation of GPU, the Mali-T760, the third generation of the architecture behind the Mali-T628 that powers Galaxy Alpha's chipset. The Qualcomm chipset brings a next-gen GPU as well, Adreno 420.
The Galaxy Note 4 will have 3GB of RAM in both its Exynos and Snapdragon versions.
In terms of performance the Exynos 5433 is placed a close second to NVIDIA's beastly Tegra K1 (which we're yet to see in a phone) and ahead of the Snapdragon 805, according to numbers from the AnTuTu team.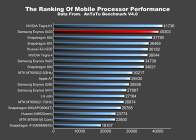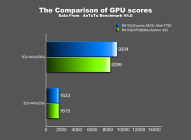 Final AnTuTu score • score breakdown • GPU performance
The Exynos chipset comes out ahead in CPU power, it can use all eight cores simultaneously. It helps that it has faster access to RAM too. The new Mali-T760 has an edge over the new Adreno 420 at the QHD resolution of the Galaxy Note 4 screen.
We added the score to our own charts and the new Samsung-made chipset certainly seems impressive. It offers a small improvement over the 5430 but the thing to keep in mind here is that Android 4.4 isn't optimized for the new instruction set used in the Exynos chipset and the QHD screen resolution.
AnTuTu 4
Higher is better
Samsung Galaxy Note 4 (Exynos)
40303
Xiaomi Mi Pad 7.9
39575
Oppo Find 7
38484
Samsung Galaxy Alpha
38119
HTC One (M8)
37009
Galaxy S5 (Snapdragon 801)
36018
Samsung Galaxy Note 4 (S805)
35645
Sony Xperia Z2
33182
Samsung Galaxy Note 3 S800
31109
LG G3
30482
Besides moving to 64-bits ARMv8 brings new instructions and more registers. The new ART runtime in Android L will make use of those so apps should see a performance bump "for free" (that is without the developer changing anything).
Exynos 5433 never get 64bit system. Although the soc is 64bit capable. Even Galaxy Tab S II (with Exynos 5433) still running in 32bit system. I am very curious why Samsung did not make a 64bit system for Exynos 5433.
Just got to 50109, with snapdragon 805,the only thing I did was keep the device on top of a fan blowing into it with the back off, so it's alot to do with heat, cold device = higher score.
Your i6 is based on latest Antutu version result. All recent result had changed. Note4 with Exynos 5433 easily hit 53k now..