Exynos 5 Octa 5420 is 20% faster, set to star in the Galaxy Note III
Following the teaser last week, Samsung has finally unveiled the new Exynos 5 Octa chip and shared some more details about it.
The new Exynos 5 Octa 5420, which is likely to power the Samsung Galaxy Note III, is retaining its ARM big.LITTLE architecture with four Cortex A15 and Cortex A7 cores. Thanks to a boost in the clock speeds of both quartets of CPU cores, the new Exynos 5 Octa packs 20% more punch than its predecessor. The quad Cortex A15 now run at up to 1.8GHz, as opposed to 1.6GHz in the 5410 version, while the Cortex A7 can now operate at 1.3GHz, compared to 1.2GHz in the previous version.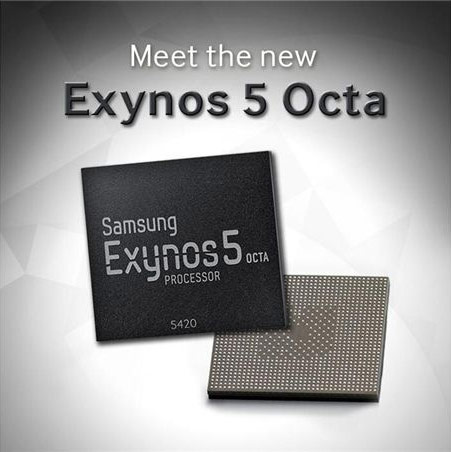 Samsung has opted out of using Imagination's PowerVRSGX544MP3 graphics of its new gen Octa chip and has decided to use the 6-core ARM Mali-T628 MP6. The memory is updated as well and while its the same dual-channel 32-bit LPDDR configuration it can now support up to 1866MHz clock speed. This results in a maximum bandwidth of 14.9Gbps.
As a result of this boost in the memory, the new Exynos 5 Octa comes with full HD Wi-Fi display support. As with any new generation chip, Samsung has made improvements in the energy department and the 5420 chip is more efficient when used on high-resolution display devices, improving battery life.
Samsung says the Exynos 5 Octa 5420 is now sampling and will enter mass production in August. That means the chipset will be ready just in time for the Galaxy Note III announcement, which should happen on September 4.
?
Turn of the transition and window animations. It is instant without them. The "animations" appear to lag because they draw out the transition long enough for you to notice the silly movements of the windows. Good gravy, man.
R
You guarantee? Mind telling me who the blue hell are you? Qualcomm agent?
?
It was a long, exaggerated, and false reply to a simple statement that did not need a reply. Because it was a simple factual sentence. So no.
ADVERTISEMENTS