Samsung revealed the Exynos 9810 chipset at the beginning of 2018, but everyone is already talking about 5G development. Qualcomm, as previously reported, will unveil a 5G Snapdragon modem next year and will start employing it into smartphones. According to the latest information, though, Samsung's in-house Exynos platform is heading that way as well with the Exynos 9820.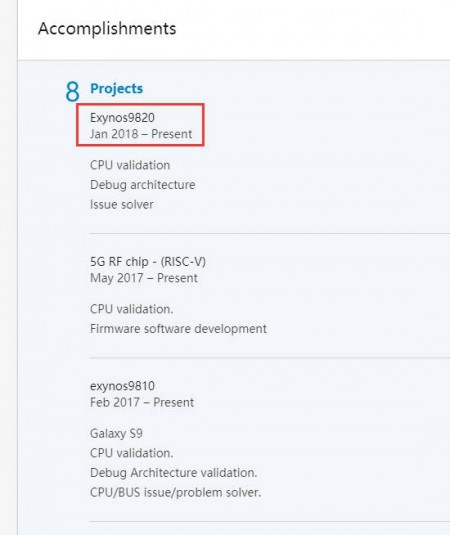 According to the leak, a Samsung Electronics employee is working on the Exynos 9820 project since January 2018 on various tasks like CPU validation, Debug architecture and solving issues. The same worker is also on the 5G RF chip that is bound to bring gigabit speeds into our daily lives.
The Exynos 9820 SoC is most likely to be an upgrade over the current Exynos 9810. It is expected to be built on the 7nm EUV process that is already part of Samsung's production line.
D
A12 uses 7nm DUV not EUV
B
Nope, mine doesn't switch to 3G when on a call. In fact, my carrier doesn't even support 3G. Only 4G bands. It's operator specific I guess. Well, the tech does support VoLTE. 3G doesn't. That's why you're able to do a google search while callin...
?
Let's see how gonna keep with upcoming A12, 7nm.