Exynos Galaxy S10 visits GeekBench, still behind the iPhone XS in single-core test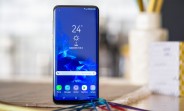 The Samsung Galaxy S10 has been spotted on GeekBench and the numbers are in. This time, it's the Exynos 9820 variant for South Korea (SM-G973N), and there are notable differences with the previously seen results from the S10+ in Snapdragon 855 trim.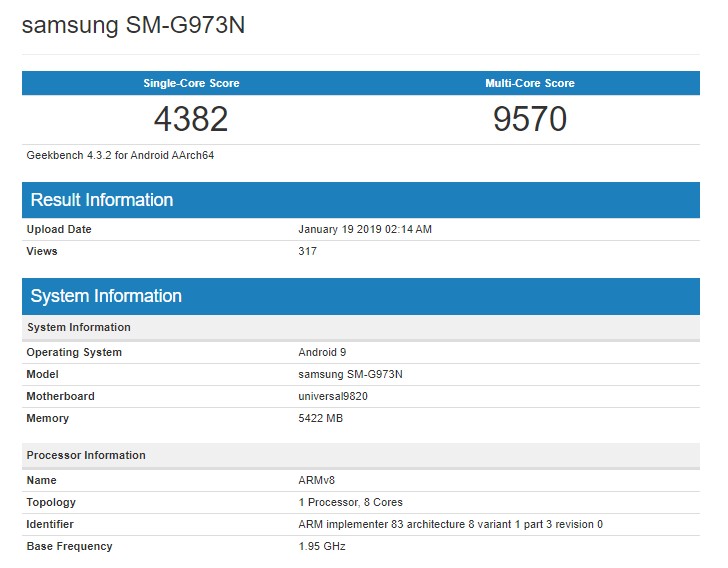 The single-core result, in particular, is far ahead of any other chip in the Android world - the current Kirin 980 (around the 3400s) and Snapdragon 845 (ballpark is in 2400s) are no match for the next-gen Exynos, and early Snapdragon 855 figures are much lower too (3400-3550 depending on who you ask). In fact, the older Exynos 9810 gets closest, posting single core results upwards of 3600 and into the high 3700s under the right conditions. Even so, the iPhone XS remains out of reach.
GeekBench 4.1 (single-core)
Higher is better
Apple iPhone XS Max
4777
Samsung Galaxy S10 (E9820)
4382
Samsung Galaxy S9+
3771
Samsung Galaxy Note9
3642
Samsung Galaxy S10+ (S855)
3413
Huawei Mate 20 Pro
3291
Huawei Mate 20
3284
Xiaomi Mi Mix 3
2429
OnePlus 6T McLaren Edition
2376
The multi-core performance isn't as impressive, though still respectable. In this scenario, however, the Exynos Galaxy S10 is bested by the Kirin-packing Mate 20s and its own Snapdragon sibling.
GeekBench 4.1 (multi-core)
Higher is better
Apple iPhone XS Max
11432
Samsung Galaxy S10+ (S855)
10256
Huawei Mate 20
9793
Huawei Mate 20 Pro
9712
Samsung Galaxy S10 (E9820)
9570
Xiaomi Mi Mix 3
9065
Samsung Galaxy Note9
9026
OnePlus 6T McLaren Edition
9005
Samsung Galaxy S9+
8883
With the Exynos 9810, Samsung focused more on providing higher single-core performance that competing designs in the Android realm and with the 9820 that push continues. Apple's Bionic still sets the trends in raw single-core power, but Samsung is quickly catching up.
D
Your comments are so funny you clearly have never used a pixel device. I know people running a pixel 1 and it still as fast when was taken out the box from New.
R
Is it possible to install android OS on an IPhone and then start this test ? or the other way around ? Does a lighter OS have effect on the benchmarks and if it does how much ? I remember flashing lighter custom OS on android phone, this wo...
N
Finally someone with common sense. iPhone is a basic OS compared to Android
ADVERTISEMENTS