Facebook has started its figthback against Google and its Google+ project. The company has just released a Java-based version of its mobile application, which should extend its reach to just about every mobile platform out there.
The app is compatible with 2,500 Java-enabled phones and gives you access to the most popular features of the social network such as News Feed, Inbox, and Photos and it also enables you to upload photos and find friends from your phone's contacts. The app should work on just about any platform that didn't have an app already.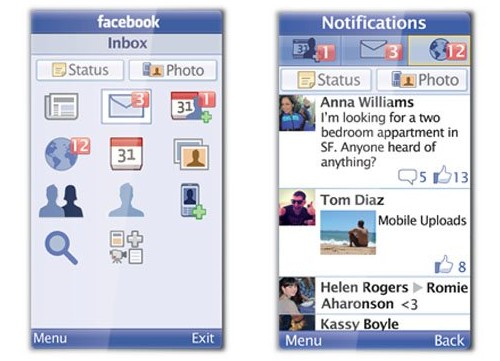 Facebook has optimized their new application to use less data, so your cell phone charges don't go through the roof. What's more the company has reached an agreement with several carriers, which will offer free data access to this app for 90 days. That means that you won't have to pay for the data used by the Facebook app for a full three months.
If you have a Java-enabled phone you can head to m.facebook.com and download the app right away. You can also get it at some of the popular independent app stores, including GetJar, Appia, and Mobile Weaver.
d
i'll download this apps in my LG C375 and menu ,exit button are not working....
N
When i download the app my phone reports it, then when i ever try to run it, my phone reboots!
a
luv this FACEBOOK JAVA APPLICATION,, already have in my Phone Nokia Series40,, its work,,browse faster,,
ADVERTISEMENTS