Facebook launches Notify for iOS, an app that delivers notifications for things you care about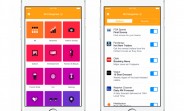 Facebook has launched yet another mobile app today, and this one is called Notify. It's available already in the iTunes App Store for iOS, but there's no word on when or if it might make the jump to other platforms.
As its name clearly implies, Notify is all about notifications. This is an app for those who think they're not getting enough notifications throughout the day. So why not add a few?
Notify notifies you about things you care about, after you've picked what those are from a handy list of "stations". To get a better idea of what that means, know that one such station is Final Scores from FOX Sports, and another is Hot New Trailers from Fandango. While the former is pretty much self-explanatory, the latter will notify you every time there's a new trailer out for "the hottest movies".
Choose a dozen or so "stations" and soon your iPhone will keep on buzzing. Notify gives you station suggestions based on your Facebook profile (of course). If you tap on any of Notify's notifications, you'll be brought to the respective website through an in-app browser.
Oh, and you can share your favorite notifications with friends via text, email, Facebook, or another social network (if you know any). There's also a saved notifications list where you place things you want to get to later, as well as an in-app feed of all the notifications you've received over the past 24 hours.
?
But I don't care about any Facebook notifications.
s
Here it is... Another Facebook app which drains iPhone battery fast.
D
Great to be iOS user. As always we get all the good stuffs first My favourite is the new hot trailers notification, because im a big movies fan