Facebook just keeps on adding features to Messenger. Just last week a new camera experience debuted in the app, and today it's time for yet another unveiling. Group video calls are now possible in Facebook Messenger, following the introduction of one-to-one video calls last year and then group voice calls this past April.
Up to six people can be seen at the same time in any group video chat, but up to 50 persons can join in via voice - or just listen. Once more than six people are on camera, only the dominant speaker is shown to all participants.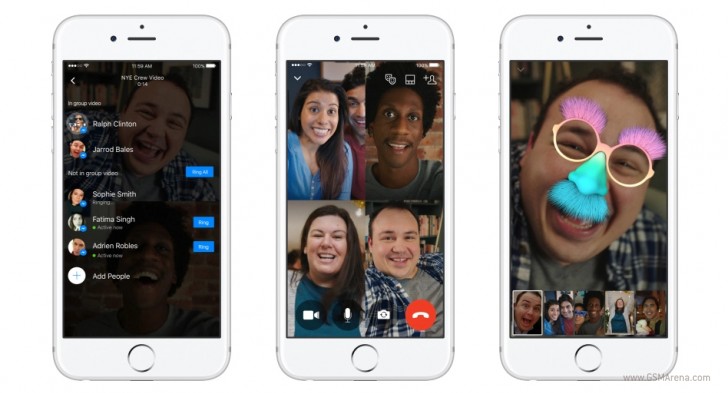 This is apparently the most requested feature for Messenger, so it's clearly going to be well received by users across the world. Group video chat is rolling out starting today to Messenger's website as well as its apps for Android and iOS. And, amazingly, there's no geo-restriction here, the rollout is for the whole world.
Facebook says 245 million people have been making (one-to-one) video calls each month, and we assume the usage numbers will skyrocket thanks to the new functionality. To use group video chat, you need to have the latest version of Messenger, then go into an existing group conversation and tap the video icon in the upper right part of the screen. You've thus entered the video chat and every member of that group will be notified. From that point on everyone can join with just one tap. You are also able to call a select subset of people in the group.
?
Thank you for sharing this great information. Facebook these feature good many people don't know about this feature for that people this information helpful.
a
I'm lost fb messengr .now i did not instilling again .i'ld like messenger app to use our group.This app can be use in low verssion how can i get? Lead the way please.
A
TRUE!!!!!!!!!!!!!!!!!!!!!!!!!!!!!!!!!!