Today Facebook has announced a new feature. This one is going to be exclusive to celebrities, though. Starting today, verified athletes, musicians, politicians, and "other influencers" will be able to share live video with their fans.
This will happen through Facebook Mentions, the special app designed just for celebrities. Obviously though, you won't need a special app to watch said live video broadcasts from your fav celeb - they will show up in your News Feed on the Facebook website and in all of its mobile apps.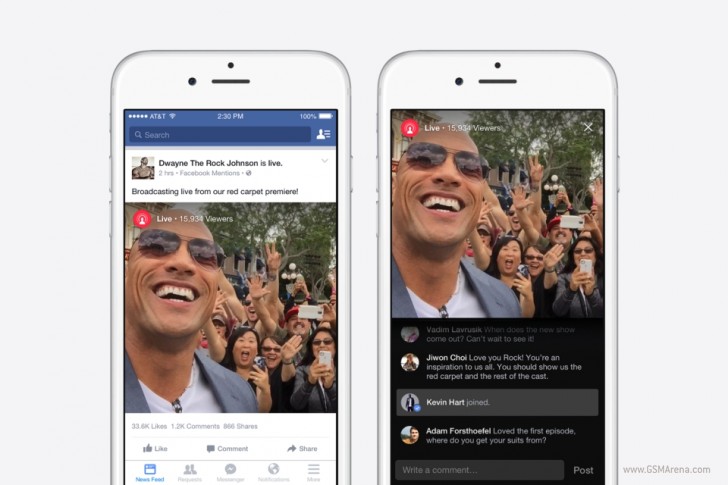 This being Facebook, you can like, share, and comment on the live videos as they're being broadcast. You also see when your friends or other public figures start watching a stream. And if you don't catch the live broadcast, you'll be able to watch any such video later on the specific celeb's page.
The first famous people to take advantage of this new feature will apparently be Dwayne The Rock Johnson, Serena Williams, Luke Bryan, Ricardo Kaká, Ashley Tisdale, Lester Holt, Martha Stewart, and Michael Bublé. At this point it doesn't look like Facebook has any plans to let everyone broadcast live videos - it's celebrities only for now.
D
That's right jabroni! The Rock is streaming live, LIVE! for the millions, AND MILLIONS of The Rock's fans! The Facebook scrollin', eye brow raisin', trail blazin' pie eating most electrifying man in sports social media, the Great One, The People's Ch...
D
You don't have to be a celebrity to do that. I have Xperia Z3 Compact and I can do it with a camera app called Social live... It's free at 270p and premium with subscription at 360p... Premium should be 720p, anyway, I used it only once, but it w...
ADVERTISEMENTS