Facebook has announced a new feature today, and while this may be an unexpected one it does have the potential to be genuinely helpful to people. It's meant to help manage how much of your ex you see on Facebook after you break up.
It all starts when you change your relationship status from "in a relationship" to something else, as depicted in the first screenshot below. On that screen Facebook already informs you that you can see less from your ex, limit what he or she can see, and edit your previously uploaded photos.
So let's take them one at a time. First off, you can choose not to see your ex in News Feed. If you pick this setting, Facebook additionally won't ever prompt you to message this person, or tag him or her in your pictures from that point on.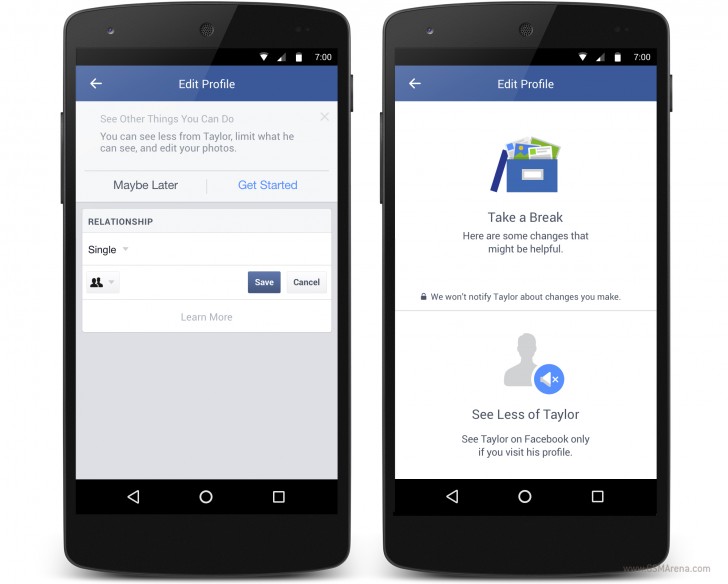 If you want, you can limit what your ex will see from your activity on Facebook. The setting ensures that he or she will only see your public stuff, posts you've tagged him or her in, and things you've shared on the timelines of mutual friends. This also limits his or her ability to see posts you're tagged in.
As for your past posts, you can either edit these one by one to decide which to make private or untag, or choose to make all of your posts that your ex is tagged in only visible to those who are tagged in them.
This new feature is currently undergoing testing in the US on mobile. Things can still change based on people's feedback. And it's good to remember that everything you've just read is optional. There's no word on when or if this will become available internationally.
?
i mean... facebook out of ideas or there is really stupid people, that will use it instead of blocking Him/her. or its just to do not loose that person at all.. i cant get any sence on it
?
It's not easy to be a 'real man' if you LOVED her so much. Please leave me alone with my agony.
D
Block, unfriend, unfollow, put them in a restricted list, all of these are faster and more convenient than this new pathetic feature, seems like poor FB is out of ideas lol