Facebook's headquarters in Israel - located in the Tel Aviv - has been vandalized to protest pages containing violence inciting, anti-Israel and anti-Jewish content.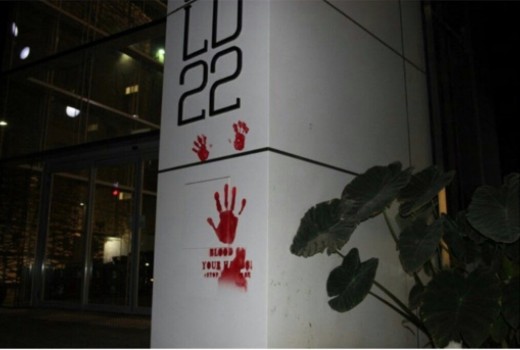 A Tel Aviv man by the name of Rotem Gez spray-painted graffiti (shown in the image above) of bloody hand-prints on the company's building, along with the text "blood on your hands."
Claiming the responsibility of the work, Gez said in a television interview that the social networking company doesn't take down the pages in question as they bring in good amount of traffic to the site.
"I decided to go out and campaign against them to make it clear our blood is on their hands," he said. "We decided to do this because you can't write anything on Facebook's Wall (on the site), so we transferred the protest to the company's physical wall, outside the network."
It's worth mentioning that this is not the first run-in Gez has had with Facebook; back in 2011, he legally changed his to name to Mark Zuckerberg after Facebook sent him a couple of cease-and-desist letters for violating the company's terms of service - he was caught selling 'likes' to advertisers.
D
Not only that, the author also got this wrong. It should be: "... man by the name of Mark Zuckerberg spray-painted graffiti ..." LOL
D
The word "Just" has no place in this discussion, nothing is that simple. Jerusalem is and forever be, the Jewish capital of Israel. Everything else are just opinions of ignorant who thrive from news and talkbacks.
k
This guy is an attention seeker. Most of us are aware about the history of israel and what's going on out there..