Samsung Galaxy Note10 Lite's S Pen will have Bluetooth, FCC confirms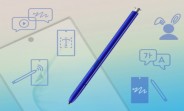 The Samsung Galaxy Note10 Lite will have a Bluetooth-enabled S Pen. It remains to be seen whether it will have the advanced functionality of the latest flagship model (i.e. the gyroscopic controls) or the more basic controls of the Note9 (e.g. a wireless shutter key for the camera).
FCC's documents reveal the dimensions of the stylus, 5.80 x 4.35 x 105.18mm, which is identical to the Note10 stylus and slightly larger than that of its predecessor. Of course, this could be just for ergonomics rather than for the additional gyro hardware.

It's also interesting to note that the FCC is withholding external photos of the S Pen until May 25 next year, which suggests a time frame for the Galaxy Note10 Lite unveiling. That's nine months after the Note10 flagships were unveiled, right in the fourth quarter of a model's life cycle when sales are in a steep decline.

Also, it's three months after the Galaxy S11 phones, which are expected in February. Such a time frame means that the Note10 Lite will not get in the way of the big dogs and will have an opportunity to boost Samsung sales after the S11 launch buzz has cooled off.
H
Though model is named Lite, it will have screen size more than 6.5 I think.
?
correct I will wait for the note 11, not giving up on my note 9 for now
S
The Note9 was going for practically full price all the way up until the Note10 release, and in fact I've not even seen many discounts for it since. I have no doubt the Note10 Lite only needs to manage S10e-level pricing to have a solid place for...
ADVERTISEMENTS