Phonebook
The Contacts app feels very familiar if you come from Android. It lists contacts with a photo, names are indexed by letter. There's an alphabet scroll and a search field. Contact display options are limited, you can only set contacts to be sorted by last name instead of first name.
Contact details however are as extensive as you can imagine. You can add multiple phone numbers and emails, addresses (home, work, etc.) and comments. Identical contacts can be linked together, there's an automatic option to find duplicates to help with that.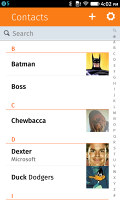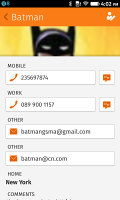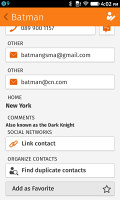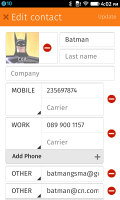 The phonebook • contact details • dealing with duplicates • editing a contact's details
Your contact list can be synced with Facebook, which is the only sync option available for now. You can import contacts from Gmail or Outlook, but this is a manual process - you have to hit Import each time you want to update your contact list.
It's not manual in the sense that you have to do much, you just enter user name and password (you'll also be asked to authorize the connection).
You can import contacts stored on the memory card too, but that's about it. You can back up contacts to the memory card or send them over Bluetooth, but there's no option to pull contacts from your old phone via Bluetooth. There's no way to push new contacts back to Gmail either.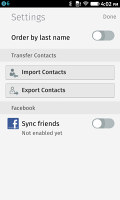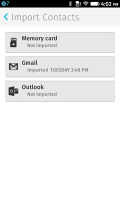 Syncing and importing contacts
We're used to "the cloud" (be it Google's or iCloud or other) syncing our contacts automatically across multiple devices, but we can live with the Import from Gmail option for now. It's even better if you use Facebook. Still, we would have preferred "Sync with Google" over "Sync with Facebook", if we had the choice.
Dialer
The dialer has smart dialing but it only looks for matching phone numbers and not names (which would have been the more helpful option). If multiple contacts match, the number of matches is displayed along with an arrow to view all of them.
The dialer is a tabbed app so you can just jump into the contacts list, however tapping a contact just opens an info screen rather than dialing.
You can also go into the Call log tab, which is split into two sub-tabs - All calls and Missed.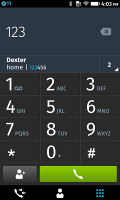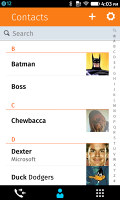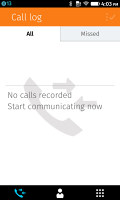 Smart dial • or pick one for the contact list • or from the call log
As of version 1.3, Firefox OS supports dual-SIM, dual-standby devices but there are none on the market just yet.
Messaging and text input
The Messaging app handles both text and MMS and has a design copied straight out of Android. It shows a list of threads with a name, contact photo and time of the last message but there are no extra options here besides mass delete threads.
When you go into an individual thread, the UI becomes more powerful. You can tap the name of the contact, which brings up options to call them or view the full contact info. Just below the name is the phone number and number type (i.e. personal, work).
MMS messages can be created with attached photos, videos and music. MMS support has been improved since its introduction in Firefox OS 1.1, now everything works as expected.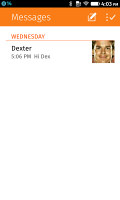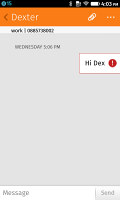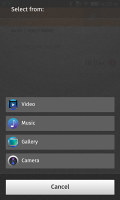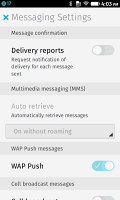 Message threads • a single thread • attaching multimedia • message options
A long press on an individual message lets you delete or forward it. Delivery reports can be enabled in the settings menu and you can have the phone auto-retrieve MMS messages.
The E-Mail app supports IMAP and POP3 (since OS version 1.3) and setting up our usual Gmail accounts was trouble-free. Multiple accounts are supported but there's no combined inbox. You can view all folders for the email accounts.
The app can batch-delete messages, flag, move or mark them as read/unread.
Note that there's no push email support so you have to set up a sync period for each account (manual sync is also an option).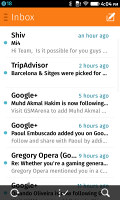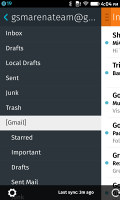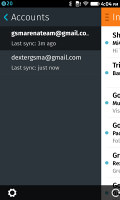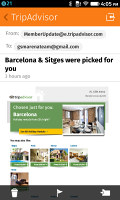 The default email app is easy to set up and supports multiple accounts
There are some instant messaging apps available for Firefox OS too. An official LINE app is available as an instant messenger, but little else on the official side.
Going the unofficial route, there are apps like Loqui IM that promise to handle WhatsApp, Google Hangouts and Facebook Chat messages. Still, we (as users) are a little wary of handing over our account passwords to unofficial apps.
A Twitter client is available right out of the box. It just looks like the mobile site was packaged into an app but it works well enough. The Facebook "app" is actually just a browser shortcut, which is pretty disappointing (we expected more, given the presence of the Facebook sync functionality).
Firefox OS supports third-party keyboards but the default one is the only usable keyboard for now. It supports word suggestion and auto correction, but there are none of the Swipe-like goodies that come as default for Android, iOS and Windows Phone keyboards.
You can add more than one input language but the selection is pretty thin right now - Western Europe is somewhat covered but that's it (essentially Latin letters plus diacritics where necessary).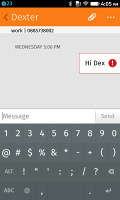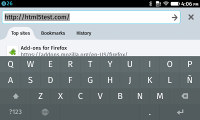 The default portrait and landscape keyboards
One thing that bugs us about the keyboard is that it's always in all-caps. We prefer Android's approach of switching between upper and lower case. The long press is underutilized too, it's only used for characters with diacritics, but there are no numbers or punctuation signs.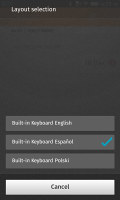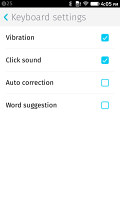 Switching between input languages • keyboard settings
A major flaw of Firefox OS's editing options is that you can't select text - that means no copy/paste either! Those are usual growing pains for each OS, but the competitors already went through this stage, so Firefox needs to catch up and quickly at that.