Sony's event a couple of days ago brought us the Xperia Z Ultra, but still left only one major phone in the rumor mill – the Sony Xperia i1 Homani. This could be the first image of the device – the OmniBalance design gives away its Xperia Z family allegiance, but the camera positioning doesn't match any of the official models.
The photo allegedly shows the Honami next to the new Xperia Z Ultra and the Xperia ZQ (Brazil's ZL version).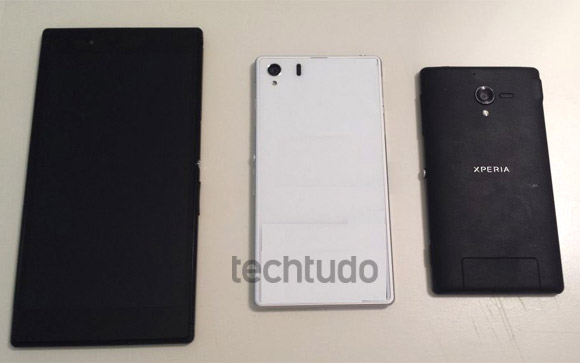 The rumors are that Sony is trying to revive its camera phone business with the Honami, putting in a large 1/1.6" sensor with an impressive 20MP resolution. To be honest the smartphone looks a bit too slim to be able to host such a large sensor, but only time will tell. The Techtudo team who leaked the photos claims they have verified the 20MP resolution, but could not download any photos to publish.
The camera on the Xperia Honami may borrow the BIONZ image processing tech Sony puts on its Alpha DSLRs.
The Honami appears bigger than the ZQ, so it should be about the same size as the Xperia Z, supporting the rumors of a 5" display. It was reportedly not a finalized device, but it ran Android 4.2 without glitches on a Snapdragon 800 chipset.
The back is made of glass as on the Xperia Z and Z Ultra and there are microSIM and microSD card slots on the sides of the device.
Keep in mind those are unverified rumors and we cannot confirm their authenticity or that of the photo. We can't even confirm that the device in question is the Honami – a big 20MP sensor with a single-LED flash seems an odd combo.
a
All sony devices have poor sound quality. No midrange and subwoofers. Look, if u play mp3 files on samsung devices it even vibrates and very excellent sound quality. If u ask me about sony devices? No comment.
?
That is just your own opinion. Mostly a lonely one in the real world. Only shared in majority by online haters.
ADVERTISEMENTS