First AnTuTu score from iPhone 13 Pro shows faster CPU, GPU and memory than the 12 Pro
The iPhone 13 announcement came with the reveal of the new Apple A15 chipset and (as always) Apple said it is the fastest smartphone chip in the world. Interestingly, the chip inside the iPhone 13 vanilla and mini had a 4-core GPU (as usual), while the one inside the iPhone 13 Pro, Pro Max and the new iPad mini had 5-cores (quite possibly the result of different binning intended to stave off chip supply issues).
AnTuTu discovered an early test run of an "iPhone 14,2", which is likely the 13 Pro, a unit with 6GB of RAM and 1TB storage, no less. And with an overall score of nearly 840,000 it is undoubtedly faster than the previous models.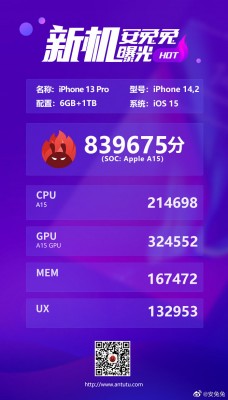 First AnTuTu result from the Apple iPhone 13 Pro (6GB RAM, 1TB storage)
Here is a direct comparison of the iPhone 12 Pro vs. 13 Pro. The speed boost of the GPU is 19%, not bad but not huge considering the revised architecture and one extra core. It's certainly not the 55% improvement, which was reported by Geekbench's GPU score (also ran on a 12 Pro). The CPU shows a similar jump in performance (17%).
It is the memory test that brings the biggest improvement (44%). However, the new storage capacity of 1 TB must have had a positive effect here (larger solid state drives tend to be faster too). Perhaps the RAM got faster too, but Apple never announces such details publicly, so we'll have to wait for a disassembly to see what chips it is using (the 12 Pro has LPDDR4).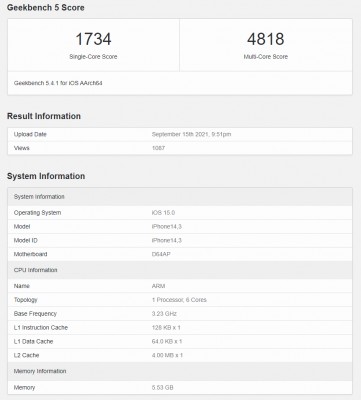 iPhone 13 Pro Max Geekbench CPU scores
An iPhone 14,3, presumably the iPhone 13 Pro Max ran Geekbench (the CPU test this time) and posted a single-core score of 1,734 and a multi-core score of 4,818. Here's a comparison with the iPhone 12 Pro Max:
GeekBench 5 (multi-core)
Higher is better
Apple iPhone 13 Pro Max
4818
Apple iPhone 12 Pro
4056
GeekBench 5 (single-core)
Higher is better
Apple iPhone 13 Pro Max
1734
Apple iPhone 12 Pro Max
1606
Unfortunately, we don't have reliable benchmark scores of the upcoming Snapdragon 898 and Exynos 2200 to compare Android's (soon to be) best chipsets against the Apple A15.
M
Watched iqoo7 pro on yt beating in speed and cideo processing new iphone 13 ,some android phone even have hignest antutu rank ,so i dont see problem here.
ADVERTISEMENT