The BlackBerry Storm and its sequel didn't do so hot when RIM was trying to break into the touch phone market. But as they say, third time's the charm - the first BlackBerry Storm 3 photos hit the interwebs and they look like an improvement.
The BlackBerry Storm 3 reportedly has a bigger screen than its predecessors - 3.7" unit looks much roomier than the 3.25" screens on the Storm and Storm 2. There's no info on the resolution though, hopefully it's got a bump from the 360x480 pixels resolution of the previous versions.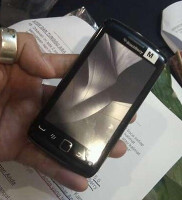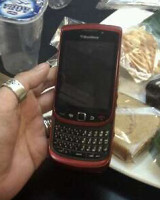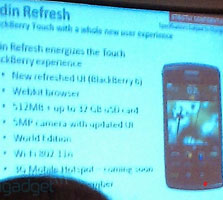 First photo of the BlackBerry Storm 3 • The BlackBerry Torch 9800 in red
The Storm 3 also features Wi-Fi hotspot connectivity, says the rumor-mill, and 8GB of built-in memory. There's an optical trackpad this time around.
A leaked slide from July allegedly had info on the Storm 3 - BlackBerry OS 6 (and the WebKit browser it brings), 512MB RAM and support for microSD cards up to 32GB. The camera is listed as 5MP and there's Wi-Fi 802.11n support. SurePress is back too, even though it was dropped for the BlackBerry Torch 9800.
So far so good - but here's where things start getting iffy. Check out the slide - there doesn't seem to be a trackpad. And there's that gossip that the Storm2 we'll be actually getting an almost silent refresh (the one on the slide) so it stays as a current model, while the real BlackBerry Storm 3 is the device pictured in hand above. So for now, take everything with a big pinch of salt.
Since we mentioned the Torch, check out the second photo - it looks great in red.
Source: Berry Review, Boy Genius Report
M
Didn't you read the artical? There is also going to be a storm 3 as well as the torch
A
By the way the phone's name is Blackberry TORCH and it's already available in the US... so no storm 3 here... sorry guys
a
The photo's from Indonesia.. There's a cup water labelled AQUA, and that's from Indonesia I think..
ADVERTISEMENTS