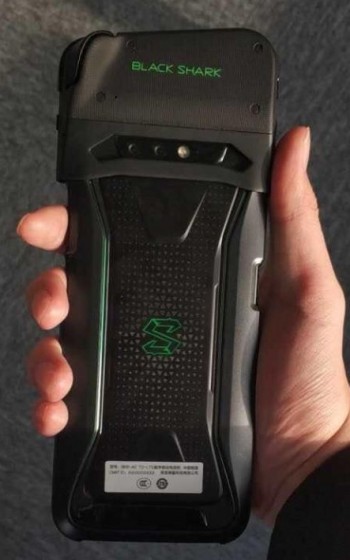 Two months ago a mysterious phone dubbed Blackshark appeared on AnTuTu with a Snapdragon 845 chipset, tall screen and 8 GB RAM. Later specs got confirmed on Geekbench, followed by an invitation for a launch event on April 13.
Thanks to a new leak, coming from the Chinese social media Weibo, we now know a bit more about the phone's design. The phone flaunts dual cameras, paired with an LED flash and a rather overdesigned back. In fact the photo seems to show the phone in some sort of huge case, which could feature some game controls at the front.
Blackshark is a Xiaomi-owned company, but the manufacturer's logo can't be found anywhere. There is only one big green letter S on the back, giving us Razer Phone vibes.
According to the source, the Blackshark is coming with an OLED screen and under-display fingerprint scanner.
There are still plenty of unknowns on the Blackshark, but not a lot of waiting remaining until the official launch fills in the gaps.
R
That would be because Nintendo Switch is NOT having additional power draining things like 3G, Background Apps plus their software is optimized for their hardware. It's way different than what a Smartphone does so you're comparing apples to oranges.
M
The Nintendo Switch runs on a 4000Mah battery and gets easily 3-6 hours of gaming done depending on the software, I regularly clock about 3-4 hours during my day playing mario oddysey, Zelda breath of the wild and rocket league, more for smaller indi...
?
I wonder what the top looks like without the slip-on controller?
ADVERTISEMENTS