First Oreo Open Beta OxygenOS ROM now available for OnePlus 3 and 3T
The title is pretty descriptive in itself, so just to clear a few things up before we get to the details: This is a Open Beta channel release and the first time Oreo has appeared on this particular branch for the pair of phones. Closed Beta OREO builds have been in circulation for some time, but this constitutes another step forward.
And secondly, the OnePlus 5 is not on the list of supported devices in this release. As per latest info, it is still lagging behind on the Oreo front. Some builds for it were expected by the end of September, but since that didn't come to pass, we are still waiting patiently.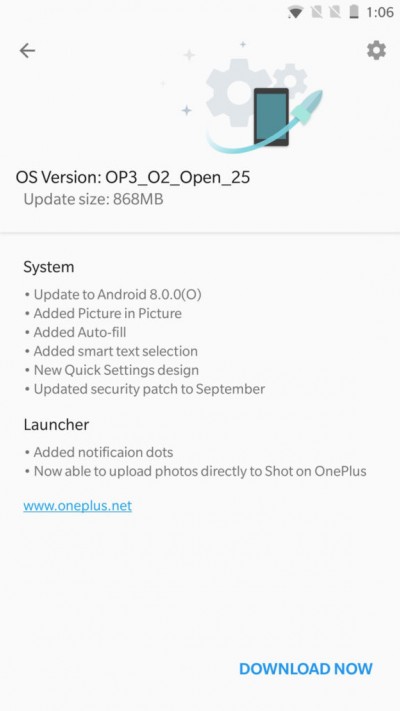 On to details then, the Android 8.0.0 Oreo ROMs made available today by OnePlus are Open Beta 25 for the OnePlus 3 and Open Beta 16 for the OnePlus 3T. Both come straight from OnePlus servers and are signed.
If you are currently running an OpenBeta build on one of these devices, then you have probably already received an OTA package with the builds. If, however, you are on the official OxygenOS branch, then now might be a great time to switch over. Just hit up the source link for flashing instructions and be sure to backup your data, since going back from Beta to Official does definitely require a full device wipe.
Naturally, an Oreo ROM means access to some exciting new features Google baked right into the Android core, like picture in picture mode. To quote OnePlus, the entire changelog is as follows:
System changes
Update to Android O (8.0)
Added Picture in Picture
Added Auto-flil
Added Smart text selection
New Quick Settings design
September security patch
Launcher changes
Added Notification dots in Launcher
Added OnePlus account login for access to Shot on OnePlus
Now able to upload photos directly to Shot on OnePlus through wallpapers
Known issues:
Fingerprint actions may be slower than you are used to.
Shortcut to access Google Photos is unavailable
Some stability issues with NFC and bluetooth
Performance and compatibility of 3rd party apps will continue to be optimized
On a final note, early adopters are reporting that the OnePlus analytics data collection functions are still part of this Open Beta. The company did promise it will remove them or make them opt-in, so, hopefully, this will happen by the time Oreo reaches the Official OTA branch.
D
Install ViPER4Android on Nougat 7.0 & 7.1 can you write a post in it?
P
Nope...when you use alpha or beta build then you're a guinea pig and OnePlus have shown this time and time again lmao...
?
the real guinea pigs are those who installed ios 11 lol