It seems Motorola is preparing a successor of its CLIQ and DEXT devices. A picture of Motorola CLIQ 2 for T-Mobile USA has leaked early today revealing a very interesting honeycomb-styled QWERTY keyboard.
Motorola CLIQ 2 (and perhaps DEXT 2 in Europe) is the next high-end smartphone in the Motorola lineup. It will pack big-enough capacitive touchscreen, 5 megapixel camera with LED flash, all-round connectivity and a unique QWERTY keyboard. Its design resembles the honeycomb pattern, which might be a clue the supposedly Android Froyo or Gingerbread inside will be upgradeable to 3.0 Honeycomb.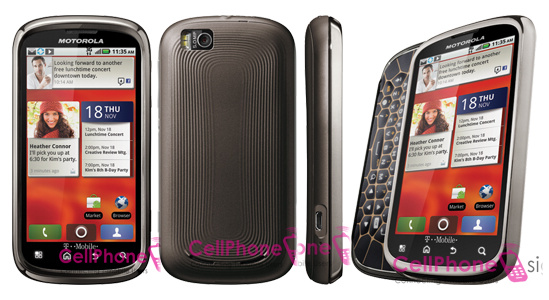 There is also a chance the CLIQ 2 will be HSPA+ capable.
Motorola CLIQ 2 is supposed to be announced at the upcoming CES 2011 and launched on 19 January.
?
great phone very nice keyboard design
v
well said thats really true
J
how are u going to call me if u do not know my cellphone number?? First off why would I even bother wasting my time calling you in the first place stupid! Did you even proof read what you just said cause more than half of it made no sense and I can s...
ADVERTISEMENTS