The last time Samsung updated its tablet lineup (we're not really counting the huge Galaxy View 2) back in February it took the wrapping off the Tab S5e. A pretty mouth-watering offer, especially if you are after one of Samsung's industry-leading Super AMOLED units in as big of a diagonal possible. The Tab S5e comes with a 10.5 inch one for just around EUR 400, along with a whole bag of other goodies and features and a fresh new, ultra-slick 5.5mm body.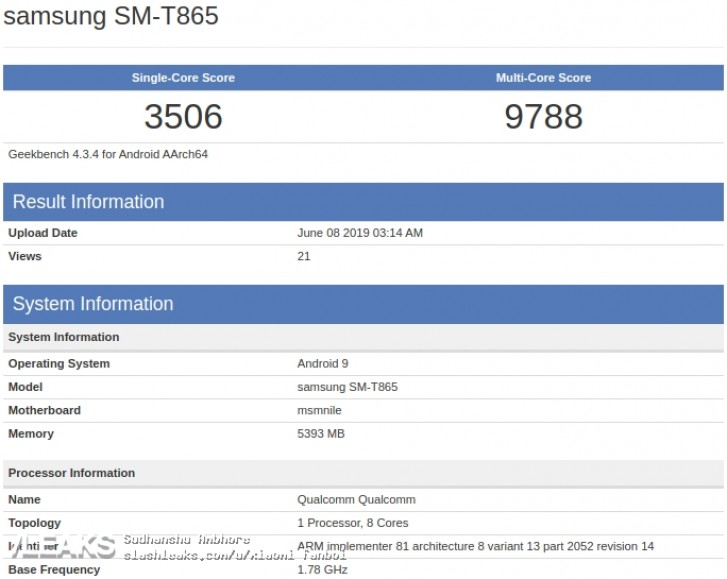 Like the Tab S5e moniker suggests, however, it is not a true flagship device. It certainly looks, feels and has more than enough features to pass off as one, but it was pretty obvious that Samsung was planning to swap out its Snapdragon 670 for a top-dog Snapdragon 855 at some point. That's precisely the silicon found inside the SM-T860 and SM-T865, recently spotted on GeekBench. These will probably be variants of the Galaxy Tab S5.
Besides the higher-end chipset, not much else is known about the hardware of these tablets. GeekBench does mention 6GB or RAM and Android 9.0 Pie - both traits are shared with the Tab S5e as well. That being said, even if the chipset is the only difference between the two devices, the new ultra-thin and modern design alone is probably enough to differentiate the Tab S5 from its rounder and chunkier Tab S4 predecessor.

Speaking of which, the latter was unveiled back in August last year, which could be taken as an indication of a rough announcement window for the Tab S5 this year. So, it probably won't be long now.
S
I only said that because the SD845 can't even reach 3k in single-core score so it can only be the SD855, plus it says msmnile which is the SD855 codename. I might be a Snapdragon fan but certainly not a sammy fan.
L
Sorry my mistake. You just seem to dislike me saying the tab S5 going to use old chipset. Lol.
ADVERTISEMENTS