Flashback: famous phones featured in blockbuster movies (The Matrix, Iron Man)
A few years ago we looked through the history of Sony (Ericsson) phones used in James Bond movies. But 007 is not the only fictional character that has been used to promote a particular handset.
The Nokia 7110 is known for appearing in The Matrix, however, that is a myth – it was actually a Nokia 8110 that was modified to have a spring-loaded keypad cover. The 7110 was unveiled a month ahead of the movie's premiere and, unlike its predecessor, it did have a sprint-loaded cover. The 7110 is also famous for being the first phone to run the Series 40 software and to feature a WAP browser.
In a way, a fictionalized version of the 8110 influenced a real world product. This was the case with the sequel as well, The Matrix Reloaded. This time it was entirely intentional and pre-planned – the Matrix team worked closely with Samsung to develop a phone. Well, more like a promotional piece of merchandise than a phone that launched alongside the movie's premiere.
The Samsung SPH-N270, aka "the Matrix phone", featured a spring-loaded mechanism as well – the earpiece covered most of the screen, but it could be pushed up to reveal the rest of it. Fans were pretty disappointed to find out that this was a very basic feature phone (it couldn't even handle SMS) and that it differed from the phone used in the actual movie (which was presumably a non-functional prop).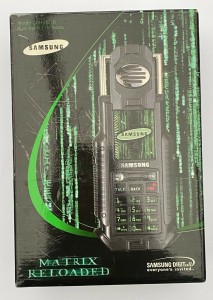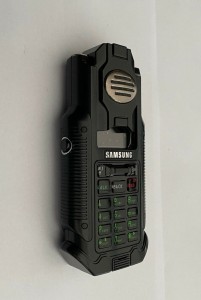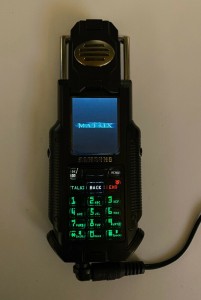 The Samsung SPH-N270 was a Matrix Reloaded tie-in (image credit)
Also, it was available in very limited numbers, only 10,000 were produced (and each is labeled with a serial number). Also, it cost a steep $500, but as a collector's item it's price on the second hand market doubled.
Let's leave the Matrix and visit the Marvel Cinematic Universe next. Instead of inventing its own phones, the MCU preferred to advertise real world products. For example, the LG VX9400 was used by Tony Stark (not long before building the Iron Man suit) in the first Iron Man movie.
It's not a hard and fast rule, though, for Iron Man 2 the movie's prop master created a fictional phone - the futuristic look was achieved with a 3D printer created a frame to hold a transparent piece of glass (the phone's user interface was all CGI). Of course, that frame had the Stark Industries logo, but also the LG logo (the Korean giant was a sponsor of the first to movies). The real world LG has dabbled with transparent phones, though they were much, much more simple.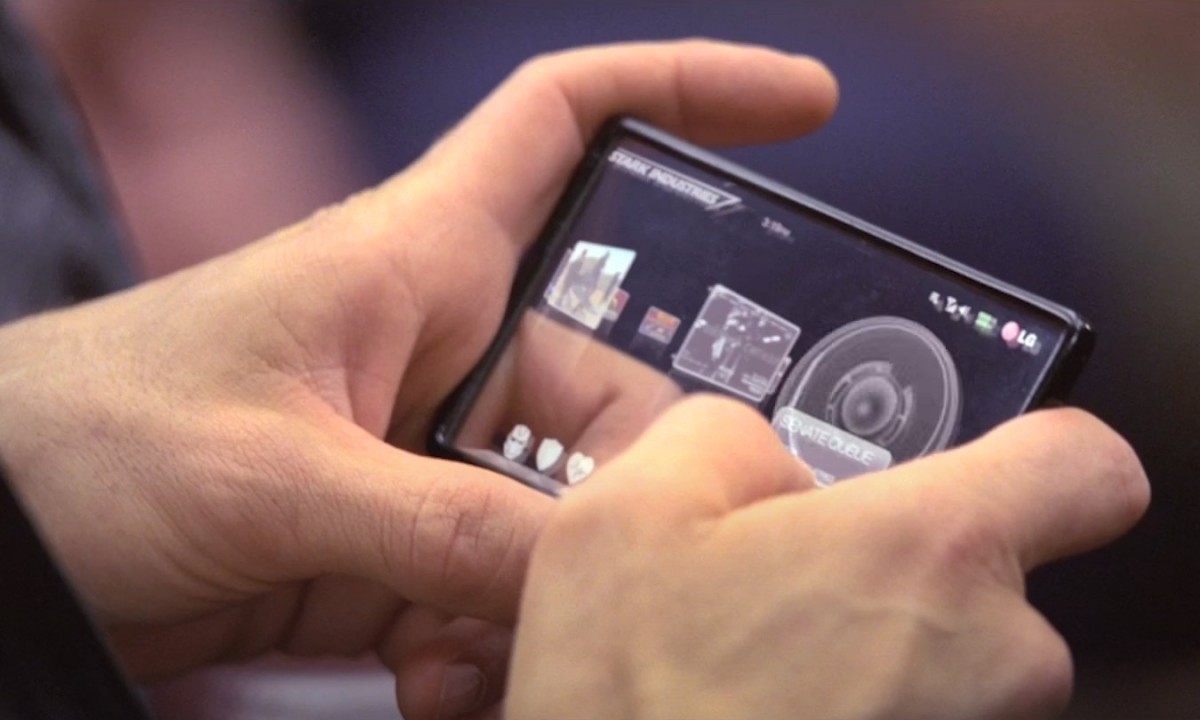 A few movies later, the partnership with LG ended and TCL came on board. At the time it was primarily selling phones under the alcatel brand it had licensed from Nokia. The alcatel One Touch Idol was featured in Iron Man 3. It can be seen in the hands of many characters, check out the teaser video below:
A few years later in Captain America: Civil War, Steve Rogers (the original Cap) and Tony Stark can be seen using a vivo V3 (note: info is a bit fuzzy here, one of the phones may have been a V3Max instead). At that time, vivos were not widely available outside of China, so Western audiences were unlikely to recognize the brand.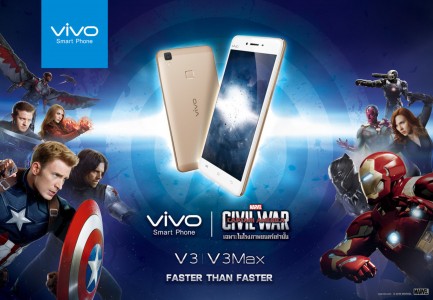 The vivo V3 and V3Max were featured in Captain America: Civil War
By the way, James Bond left Sony behind and switched to a Nokia. The new movie was originally set to release in November of 2019, but was pushed back to February and then to April due to some behind the scenes drama. That premiere date wasn't meant to be as the pandemic had already closed most movie theaters. No Time to Die is currently scheduled for release on September 30 2021
All these delays meant that the phone featured in the trailers – a Nokia 8.3 5G – is old news, so some reshoots were necessary.
Anyway, there are more movie phones to cover. Do you know what was the smartphone of choice for Nolan's Batman? We'll cover that (and more) in a future installment.
C
Thanks again man I can't thank u enough!
You're welcome, also perhaps you could check, I think there are some companies that you can order something in another country as a middleman and they ship it to you. As examples, I've found "Borderlinx" and "Tenso", I...
?
"A few years later in Captain America: Civil War, Steve Rogers (the original Cap) and Tony Stark can be seen using a vivo V3.." Tony Stark using transparent phone with Vivo brand on its UI and its holographic UI btw