Flashback: not so weird car branded phones, part 2 - Lamborghini, Ferrari, Spyker, Porsche
A few episodes back we talked about the Nokia 8800 Aston Martin Edition. But did you know that there was also a Lamborghini edition? Time for another look at car-branded phones.
Nokia 8800 Sirocco Lamborghini Edition
While the Ferrari version was based on the original 8800, the version for rival Italian supercar maker Lamborghini was crafted out of the followup, the Nokia 8800 Sirocco. Sirocco is the name of a Mediterranean wind that can reach hurricane levels, though this was just a coincidence - the Lamborghini Huracan wouldn't be unveiled for a few more years.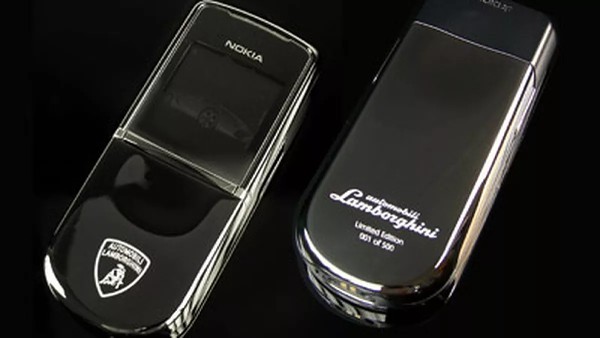 Anyway, the Finns went a little further than just slapping a badge on the phone - Lamborghini-made ball bearings were used in the phone's characteristic sliding mechanism. They also etched the famous raging bull on the front and more branding on the back.
Only 500 examples of the Nokia 8800 Sirocco Lamborghini edition were produced and they were available exclusively through Lamborghini dealerships.
Lamborghini Spyder phones and tablet
Six years later, Lamborghini decided to get more directly involved with making phones and designed three Spyder phones for the Russian market and a tablet too ("Spyder" is a typical name for sporty two-seater open-top cars).
The Lamborghini TL700 was an Android smartphone (running an outdated 2.3 Gingerbread). It had a 4.7" 480 x 800 px screen, a 5MP camera, an unknown Snapdragon chipset with 4GB of storage and a 1,400mAh battery.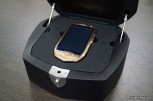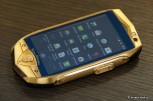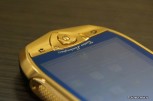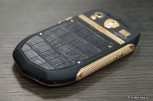 Lamborghini TL700 Spyder smartphone (image credit)
The metal chassis of the phone was gold plated, the display was guarded by sapphire glass (quite a novelty for 2012) and the back was draped in crocodile leather. The price tag was set at RUB90,000 ($2,783 at the time) - pricey, but not outrageous by Vertu standards.
The TL688 Spyder and TL820 Spyder 2 were a pair of similar featurephones. The former had a 2" QVGA display and a 3MP camera, the latter upgraded to a 2.4 VGA screen and 5MP camera.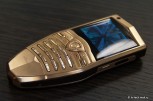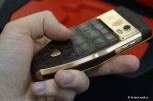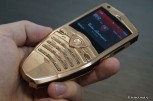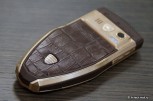 Lamborghini TL688 Spyder and TL820 Spyder 2 (image credit)
Both models had gold-plated bodies and hand-made leather backs, just like their smartphone sibling. These two were only slightly cheaper at RUB60,000 and RUB80,000, respectively. With luxury phones the exterior determines the cost, not what's on the inside.
There was a tablet too, the L2800. It also ran Android 2.3 Gingerbread with a promise to update it to 4.0 Ice Cream Sandwich (Android UI couldn't really handle tablets until 3.0 Honeycomb). The slate had an iPad-like 9.7" 1,024 x 768px screen, a Qualcomm chipset with 1.2 GHz CPU, 512MB of RAM and 4GB of storage.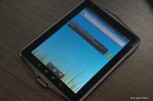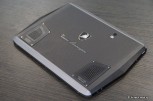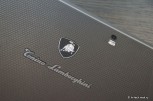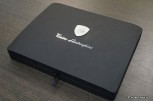 Lamborghini L2800 tablet (image credit)
Did the Lamborghini styling make it worth RUB75,000 ($2,286)? That was for rich Russian fans to decide.
Acer Liquid Ferrari Special Editions
A couple of years prior Acer and Ferrari teamed up for a special edition of the Acer Liquid E. The Android 2.1 Eclair smartphone dressed up for the occasion in bright red, of course. On the back was the Scuderia Ferrari shield made out of carbon fiber.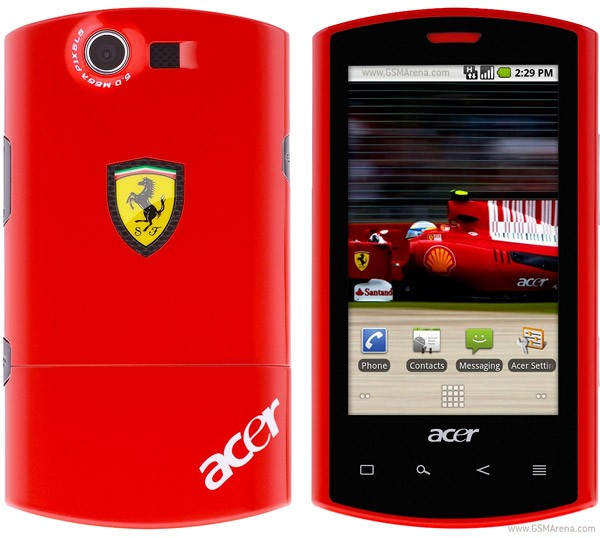 Acer Liquid E Ferrari Special Edition
The retail package contained a few perks as well - a dust and shock-resistant carrying case for the phone, plus a Bluetooth headset with noise cancellation, both Ferrari-branded, of course.
The two companies liked the end result well enough to produce a sequel. The Acer Liquid mini E310 showed up in Ferrari trim in 2011. It was an odd choice - with a 600 MHz single-core processor, 3.2" 320 x 480 px screen and lonely 5 MP camera, this phone was far away from racing luxury as it can get.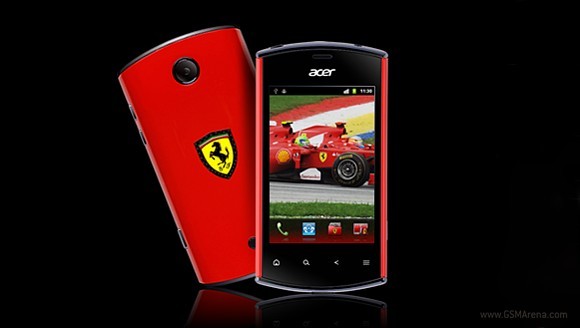 Acer Liquid mini E310 Ferrari Special Edition
Vertu Ascent Ferrari GT
Of course, if you needed a phone and had Ferrari money in 2011, the Vertu Ascent Ferrari GT was more your speed. The phone inside was actually even more basic than the Liquid mini, but it's on the outside what counts - as far as luxury phones go, anyway.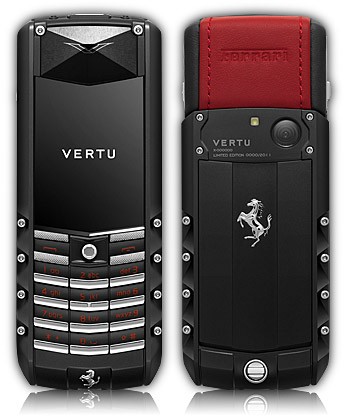 Vertu Ascent Ferrari GT
And what was on the outside was forged aluminum with a matte black PVD finish and black and red hand-sewn ornaments (made from the same leather that Ferrari uses for the interior of its cars). The back featured a ceramic battery cover with a design inspired by the Ferrari engine grill.
This wasn't the first collaboration between the two companies. The Vertu Ascent Ti Ferrari came in Giallo and Rosso versions. The leather on the back looked hand-sewn, but to our shock we discovered that the color accents on the side were actually made out of rubber. And not any special kind of rubber, as far as we could tell.
Spyker phones
Every kid has heard of Ferrari and Lamborghini, but how many have heard of Spyker Cars? The Dutch sports car maker lent its logo to at least three phones - the Aeroblade, the C8 Laviolette and Aileron.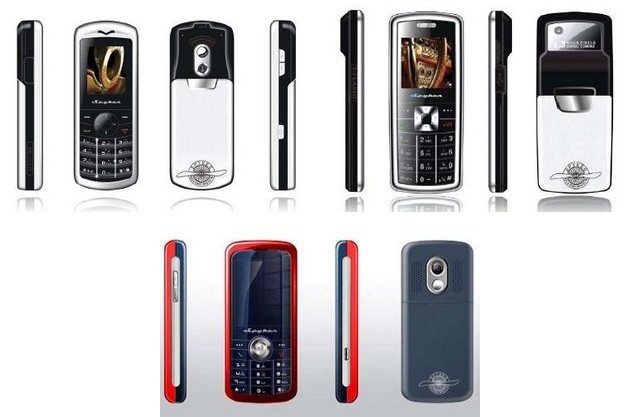 Spyker C8 Laviolette (up left) and a couple of others (image credit)
Interestingly, all three models seem to have been named after the Spyper C8. The Laviolette was based on the original Spyder version, but replaced the retractable soft top with a fixed glass roof. As for the phones themselves, we couldn't find much, unfortunately, as they have been buried under the Internet sands of time.
BlackBerry Porsche Design
Before Huawei took over, Porsche Design styled several BlackBerry phones over the years. The BlackBerry Porsche Design P'9981 came in late 2011 and was based on the Bold Touch 9900. It used the same internals, but the angular body was crafted out of stainless steel and leather. Even the famous BlackBerry QWERTY keyboard was recreated in metal.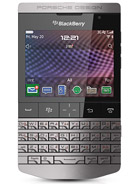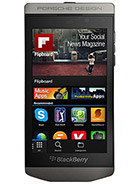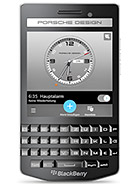 BlackBerry Porsche Design P'9981 • BlackBerry Porsche Design P'9982 • Porsche Design P'9983
Next up was the Porsche Design P'9982 from 2013, a touch-only smartphone (no keyboard at all) based on the BlackBerry Z10. This one featured a stainless stell and satin exterior and a similarly angular design.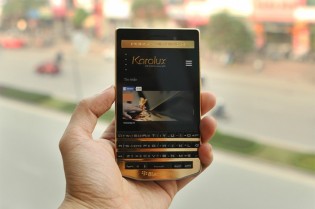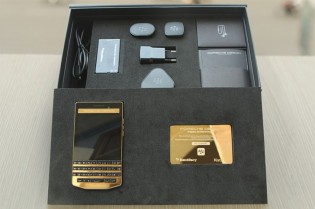 A gilded Porsche Design P'9983
Worry not, the keyboard made a comeback the following year with the Porsche Design P'9983. This one started life as a BlackBerry Q10. Also, there was the gold-plated version, though that was created independently by Karalux in Vietnam.
Blaupunkt Car Phone
Let's end on a light note. Our older readers may remember Blaupunkt as a well-regarded maker of car audio equipment. The brand is still around, but similar to Kodak and Polaroid today it's little more than just a brand.
Anyway, the Blaupunkt Car Phone is not branded with any particular car marque, the phone itself is styled to look like a car. Why? Why not! We do miss the days when phones had the luxury of looking silly. Today's black/gray slabs can get pretty boring.
More to come...
We don't know what it is about cars that appeals to phone makers specifically. Why not tap artists for inspiration or airplane makers? Whatever the reason, there are many more car-branded phones that we are yet to cover. And we plan to do just that in the near future.
S
I have a Spyker Aeroblade phone but i just don't know what kind of charger connection it has. Do you guys know what kind of charger it fits?
?
Where is Vertu Signature Touch Bentley??
ADVERTISEMENTS