The first batch of Nokia 6.1 Plus phones in India started selling right on schedule – 12:00pm local time. And by 12:03pm Flipkart was all out of stock.
The retailer doesn't say how many units were sold in total, but it did say that it was selling 150 phones a second. Multiplied by 180 seconds that's 27,000. Keep in mind that the phone was also available on Nokia.com, so the total will be higher.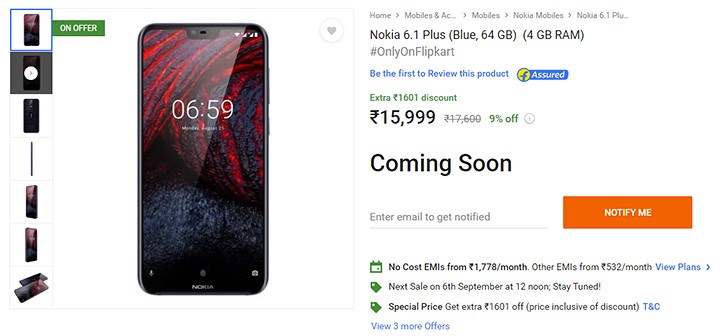 More Nokia 6.1 Plus units are on the way, the next sale on Flipkart will be on September 6 at 12 noon local time. Nokia.com should be restocking as well, but there's no info on when that will happen.
s
Release date in UAE ????
z
i too was waiting for nokia x6. now im planing to go for oppo f9 pro.just check this phone.
s
Really Out of stock... LOL!!!! Or the sale was closed.. HA ha ha ha ha
ADVERTISEMENTS