We practically know everything about the Motorola Moto E now. The company's newest Android smartphone is expected to slow below the already low-priced Moto G.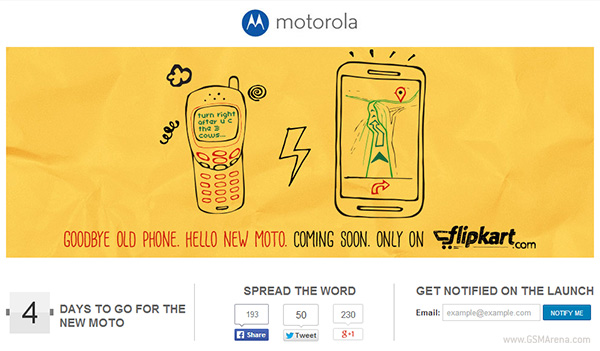 Indian online retailer Flipkart, which has exclusive rights to sell the Moto G and Moto X in India, has now started teasing the Moto E on their social media accounts.
The teaser images don't mention the name but the outline of the phone matches all the leaked images we have seen. Flipkart is also suggesting replacing low-end feature phones with the Moto E, indicating a very low price point. The website says '4 days to go for the new Moto', meaning the phone will go on sale on May 14, even if the actual launch is on May 13.
You can read our post for images and specifications of the Moto E.
D
question is if he has the money to go to a bar and manage to get a hot chick how can he be so miser to buy a moto e lol
r
Motorola is at least a brand actually well known. So I prefer Motorola phones instead of of Chinese or other unknown brands
?
i am handsome enough to get hot chicks and I don't need to hold high end phones