The LG G4 official unveiling is fast approaching and we are already on location, ready to bring you the scoop on the company's latest and greatest handset. The New York and London events both set for 3:00 PM GMT and be sure to check a little bit later for news and our live coverage.
Like always, we will try to find a live stream, so you can follow along as the LG G4 becomes official. In the meantime, here is a quick reminder of what we already know about the upcoming handset. At this point, thanks to all the abundant renders, banners, a few live photos and even an alleged shot of the retail box, we are fairly well acquainted with the design and styling of the G4. The phone should spout a nicely curved body LG dubs "Slim Arch Design", even if 8.9 mm isn't all that thin. The back will feature genuine stitched leather, which should set the G4 apart from the crowd and while it might not be to everybody's liking, it does look quite stylish. LG has promised to offer more traditional back cover options as well.
Another peculiar aspect of the G4 is its display, which might be slightly curved along the y-axis. This is supposedly done for improved handling, as well as durability, but the arch should be barely noticeable with a radius of 3000mm. Speaking of the display, is should be a 5.5-inch True HD IPS panel with a QHD resolution and Corning Gorilla Glass 4 protection. As for the rest of the specs sheet, most rumors also agree on a Snapdragon 808 as the chipset, instead of the top-of-the-line Snapdragon 810. This could prove to be a better choice than the Snapdragon 810, which is still taking a lot of overheating allegations.
The G4 will most-likely come with 3GB of RAM and 32GB of on-board storage. The camera setup is quite impressive as well with a 16MP main camera, with an aperture of f/1.8 and an 8MP front-facing one. This should all be powered by a 3000 mAh battery.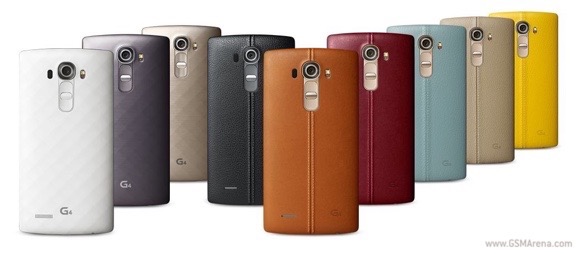 All and all, the LG G4 looks quite exciting, so we really can't wait to see it officially announced. Join us as the presentation unfolds.
R
Unless LG loads the phone with lots of Bloatware... It's been a long standing issue against OEMs that have faster processors but poor user experience because of Bloatwares or UIs that makes the device lag or eat up resources (including battery life...
j
Cant post any comments about the benchmarks since my work restricts me from doing so. -But man i just hope its going to do better with the benchmark scores once they have a full review of it.
j
The presentation buys the customers.to sell the product you need a good presentation except if its a lamborghini or ferrari.Those brands dont have to advertise anything.