Vertu has already ventured into the luxury Android business with the Constellation - an exquisite phone on the outside with mid-range specs on the inside. The ever-vigilant AnTuTu team has spotted what could be a far more interesting flagship Vertu smartphone, though, called the Signature Touch (RM-980V).
The Signature line is fairly old (the original came out in 2003) and featured an iconic chevron design with a wide choice of premium materials. The Vertu Signature Touch is clearly ready to abandon its keypad roots and move to a high quality touchscreen.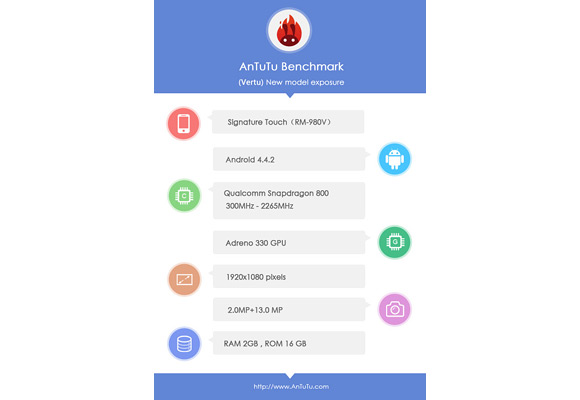 The AnTuTu benchmark registered a 1080p screen but unfortunately there's no reading on screen size. The Vertu Signature Touch also boasts a 13MP main camera and a 2MP front-facer, plus 16GB of storage.
The phone ran a current Android 4.4.2 on a powerful Snapdragon 800 chipset with 2GB RAM. Not quite on par with mainstream flagships but still large leap from the Snapdragon S4 Pro with dual-core processor that powers the Constellation.
It even got a very good score, placing it a bit lower than a Sony Xperia Z2 but well above a Nexus 5.
AnTuTu 4
Higher is better
HTC One (M8)
37009
Galaxy S5 (Snapdragon 801)
36018
Sony Xperia Z2
33182
Vertu Signature Touch
31509
LG Nexus 5
25097
What AnTuTu wasn't designed to measure is the raison d'etre of the Vertu Signature Touch – the exclusivity of the materials and the craftsmanship of the hand-built chassis. Guess we'll have to wait for the star-studded official announcement to find that out.
?
This is one of those moronic statements that is repeated over and over. Just because you want to now the cost of something...or get a value for your money...doesn't mean you "cannot" afford it.
M
Hehe, Vertu... one of those accessories that spares you the embarrassment of declaring in public that you are a moron; the phone says it all :P