Samsung is expanding the La Fleur line in Russia. Two Bada phones will be adorned with the typical floral motif of the fashionable line - the Wave 723 and the Wave 525. Two feature phones are joining the line too, both redecorations of existing models.
The La Fleur line isn't about new models, it focuses on adding a touch of style to existing models instead. Women are generally the target audience, but Samsung says men needn't look away - these phones can turn out to be a nice gift.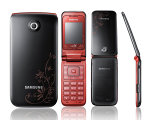 The four La Fleur additions: Wave 723, Wave 525, C3530 and E2530
The Samsung S7230 Le Fleur Wave 723 has the same specs as its boring-looking counterpart, including the metal back. The phone is painted in pink, with a black bezel around the screen and white flower decals on the front and the back. The La Fleur Wave 723 is slated to cost 12,990 rubles (€320 or $435).
The second Bada phone in the new lineup is the Samsung S5250 La Fleur Wave 525. Its specs are the same as the regular Wave 525 and it's white all over with pink decals. Its price is 8,990 rubles (€220 or $300).
The other two phones that bear the La Fleur name are two feature phones, which bring some elegance to the low end. The Samsung La Fleur C3530 bar and the Samsung La Fleur E2530 clamshell have modest specs but also a very accessible price - 5,990 rubles (€150 or $200) and 3,990 rubles (€100 or $133) respectively.
These four phones are expected to hit the Russian markets this February. There's no info if Samsung plans to expand the line to other markets but we guess they will touch down in Eastern Europe as well.
Source (Site in Russian)
a
how can we buy this .. some1 plsssssssssss advise
b
i have 2 buy this phone ne 1 knows from wer i can buy???
ADVERTISEMENTS