A smartphone costing $4 was always going to be a hit, but Indian company Ringing Bells had to learn the hard way exactly how much so. At 600,000 hits per second (by the company's own account), its website couldn't handle all the traffic and orders had to be suspended. Fret not though, Ringing Bells is working on a solution and promises that all will be back to normal within 24 hours.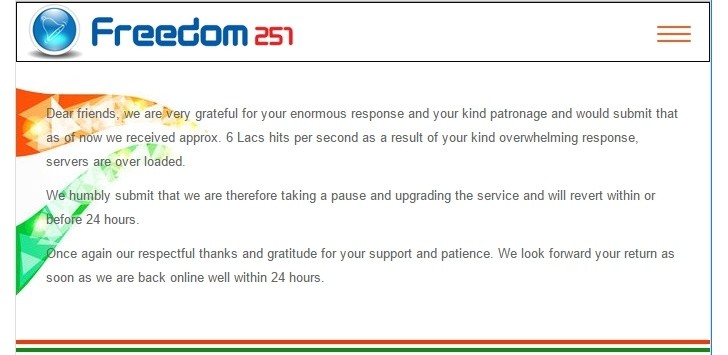 Freedom 251 is the world's cheapest smartphone and at less than $4 (or INR 251, hence the name) we can't see that record getting broken any time soon. That amount of cash gets you a 4-inch qHD display, quad-core processor, a gig of RAM and Lollipop, so you are getting plenty of bang for your few bucks.
No wonder then that the Freedom 251 broke the internet when it launched yesterday. At two points in time the search term was used more than three times as much as both Apple and Samsung combined, and no Kardashian could come close to its popularity.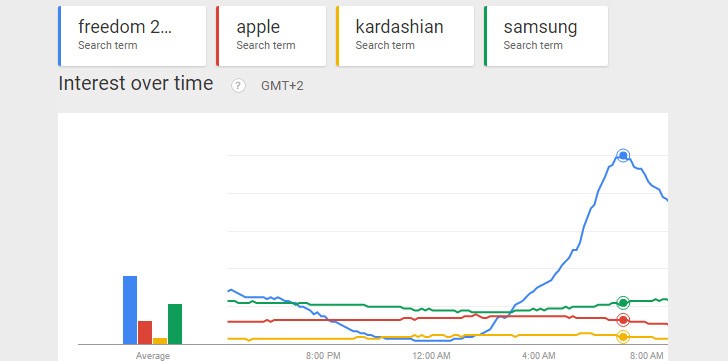 The initial madness has now quieted down a little, and interest in the Freedom 251 has plummeted compared to established brands, but they still can't match its numbers. Now, if only you could order one.
b
According to Adcom Head says to Z-Business news Yestarday- Regarding of Ringing bells new product Freedom 251, He said-The device they have bought cost of Rs-3600 for Demo version in the press Release date. also said how is a possible to give this Mo...
B
Blog: Ringing Bells accused of alleged fraud by Cyfuture call center: Ringing Bells, the maker of the world's cheapest smartphone Freedom 251, is being accused of fraud and non-payment of dues and abrupt termination of contract by call center s...
B
According to -Amitabh Kant -'Make in India' has nothing to do with Freedom 251: It looks like Ringing Bells is not able to catch a break with new allegations and controversies arising almost every day. The maker of the cheapest smartphone in India, t...