Samsung have adopted a different strategy than Apple's - instead of carrier exclusivity, most major US carriers are getting a Galaxy S phone. Reportedly, Samsung will be taking the same approach with the Tab making it available on most US carriers including AT&T, Verizon and Sprint.
The Samsung P1000 Galaxy Tab is running Google's latest - Android 2.2 Froyo - but Hugo Barra, Google's Director of products for mobile says that Froyo is not designed for tablets and some apps won't run correctly and won't be accessible from the Android Market on tablet devices. He said it's unit specific, but nothing concrete about the Tab. Current gossip is that Android 3.0 Gingerbread will be the tablet-friendly branch of Android.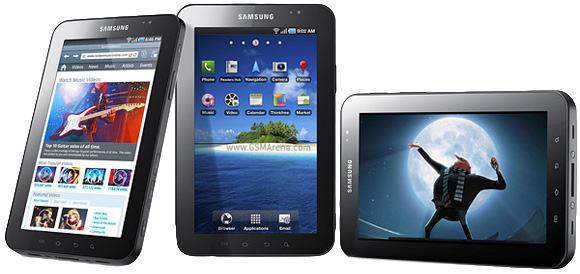 Still, the Wall Street Journal quotes three people saying that the Samsung Galaxy Tab will be available for GSM and CDMA carriers, maybe even WiMAX. So, AT&T, Verizon and Sprint are said to be getting a Galaxy Tab (strangely, no T-Mobile, not yet anyway).
That's not beyond Samsung's capabilities - with different variants of the I9000 Galaxy S for the different carriers, they sure have the hardware for it. The pricing is still unannounced, but the Samsung P1000 Galaxy Tab will probably cost between 200 and 300 US dollars in the States.
Samsung plans to sell 10 million Tabs - so putting their eggs in more than one basket sounds like a good idea. Of course this is still unconfirmed, but Samsung will be unveiling the Tab for the US on September 16 - then we'll know for sure.
?
Are a few aplications to Bada but every day it grows up. Are some Android's developers who migrate to Bada because the competition is small and they say that won't come back to Android because they won more money with bada.
?
but who will develop apps for Bada ?? tablets need apps thats more important, and almost no takers for bada app development, samsung will stick to android
?
Samsung will use Bada for their tablets, LCD's and smartphones in the future. Samsung will be the next Apple.
ADVERTISEMENTS