Unlike what we thought before, Fujitsu didn't just have the ultra thin Arrows F-078 and the ES IS12F to display at the CES. In fact they had something really special to show us. A quad-core Android smartphone running on Ice Cream Sandwich.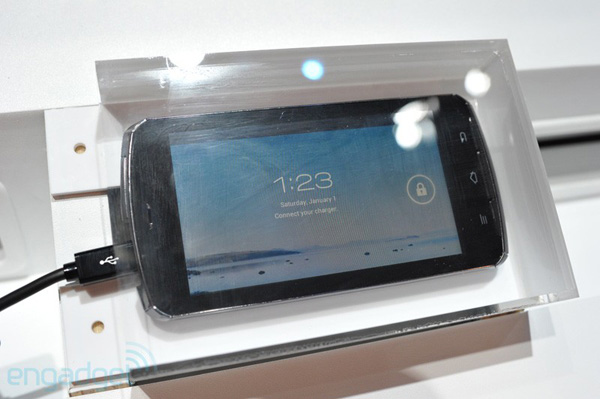 The phone currently is just a prototype and the specifications could change before it is announced officially at the MWC this year but it seems mighty impressive as it stands. For starters it will run on the quad-core Nvidia Tegra 3 processor, which will take care of all your gaming needs. Fujitsu demonstrated this power by running Riptide GP on it and the device was able to run the game on its own display as well as an external monitor smoothly. And thanks to the fifth companion core built-in, it will consume less power when you're not running graphics heavy applications.
The Arrow prototype also had a 4.6-inch HD display and a 13.1 megapixel rear camera capable of ISO 25,600 sensitivity, although it remains to be seen how good the images are at that kind of ISO value. Lastly, the phone will launch with Ice Cream Sandwich out of the box.
We will find out more about it at MWC along with information regarding which markets it plans to release the phone in. Although Fujitsu does plan to bring the phone to the west it eventually will also depend upon the carriers there.
To see more images and a video of the phone in action, check out the source link below.
a
its obvious the problem is the architecture of the phone. they make these handsets so thin they dont leave much space for the battery. so you end up with a 1500 mAh. or similar. so running a quad core cpu, you going at least a 2500 mAh. to be sensibl...
S
Don't insult Nokia fanboys, please!! True Nokia fanboys use the N9 running Meego Harmattan. Yes, it was killed by Nokia's CEO, thatnidiot Elop, but doesn't change the fact that it's a fantastic interface. Lumia buyers are Microsoft fanboys, not...
S
I don't think they have large format camera-phones for Schneider to put their sensors and lenses into .... yet.
ADVERTISEMENTS