The yet-unannounced Samsung Galaxy S6 Active has been in the news a lot over the past few days. First we discovered that its model number would be SM-G890 and that AT&T will sell it at some point. And yesterday we apparently stumbled upon its screen size - 5.5".
Now though a new rumor has surfaced claiming to give us the full spec list for the S6 Active. And to start with, it contradicts that previous finding about display size, saying it will sport a 5.1-inch QHD (2,560x1,440) panel as the 'vanilla' Galaxy S6.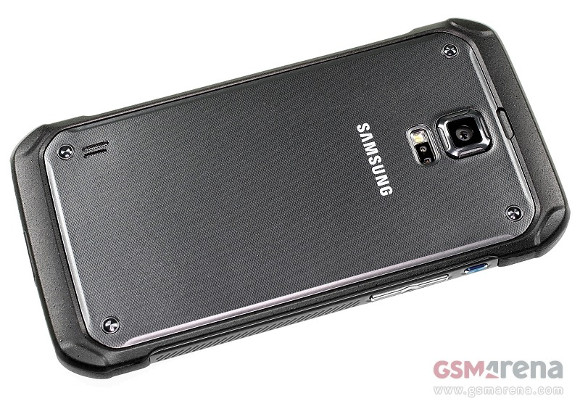 Moving on, we should also expect the successor to the Galaxy S5 Active (pictured above) to feature all of the other hardware innards of its non-rugged siblings, the S6 and S6 edge. So the same Samsung Exynos 7420 SoC, 3GB of RAM, 32GB of storage, 16MP rear camera, and 5MP front snapper.
The one thing that will reportedly change is battery capacity, rumored to come in at a whopping 3,500 mAh. That's more than what's inside the Galaxy Note 4 phablet, so we're a little wary of this particular detail - but hoping it will turn out to be right in the end.
The added ruggedness of the Active handset, coupled with the bigger battery has led to an increase in size compared to the Galaxy S6. The S6 Active will measure 146.9 x 73.6 x 8.8 mm, as opposed to 143.4 x 70.5 x 6.8 mm for the S6.
What isn't clear yet is if the S6 Active will come with a microSD card slot and a removable battery, unlike the S6 and S6 edge. Though since it's identical in every other respect, you probably shouldn't hold your breath. No detail has been revealed about how rugged it will be, but these things should surface soon now that the leaks have started in earnest.
Today's rumor also confirms that AT&T will sell the Galaxy S6 Active, and that the model number of the device for that carrier will indeed be SM-G890A. The other versions should therefore be SM-G890x, with the final letter being different depending on region and/or carrier.
Z
Nope, I don't care at ALL about fingerprint scanner. Most useless function of a phone, that has many alternatives, such as the old-school password... However, memory card, yeah! Would be nice, even though it may mean that they won't use the "s...
S
AFter the S5 kept the 32bit processor and did not add image stability, I held on to my ancient s3 knowing the s6 would be for me.. Nope. No removable battery really sucks, no SD card is a deal breaker. Alas(!) the Active version!! Larger battery (...
J
From what I've read online, I doubt we will see the return of the user removable batter and the micro SDCard slot in the Galaxy S6 Active. Which is a really big bummer as allot of people like these features in the Samsung Galaxy S series. Hopefully...
ADVERTISEMENTS