A screenshot has leaked online, which allegedly was taken from the rumored Nokia (for now) Bandit, or otherwise Lumia 1520. The screenshot sports the fine resolution of 1920 x 1080 - that's FullHD in layman's terms - and gives a glimpse of what the WP OS might look like when finally breaks the 720p barrier.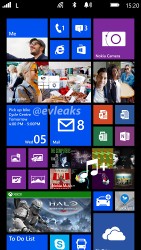 WP 1080p screenshot (click to enlarge)
We already know that Windows Phone has an update pending, namely GDR3, which will deliver said 1080p resolution support by the end of the year.
v
i hope it will come with dock for ext. devices like in normal pc/nb. it would be awesome.
K
I beg the differ. Windows is a computer operationg system and android is a phone operating system. Android is only as good as your phone when Windows and even apple have greater platforms to test improve their products. Hint, mac and pc...
v
Can't wait for this phone. Why would i want an ugly boring android... theyh all look the same on the screen... huawei, lg, samsung. Samsung, Please Add WP8 to the Note 3 and people would love u for it.