Further Pixel 6 details - Whitechapel matches SD870, 120Hz display, 5,000mAh battery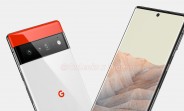 Yesterday we got a report about Google's upcoming Pixel 6 and 6 Pro and their custom Whiechapel chip and now we have some more details to add to that courtesy of another insider.
Google's custom Whitechapel chip, designed in cooperation with Samsung on its 5nm process, will reach the level of performance of a Snapdragon 870. Google will focus on the machine learning and artificial intelligence aspect of the chip to further enhance its performance. The graphics on the Whitechapel chipset will be handled by a Mali GPU, which reportedly works well under load.
Well yes, Whitechapel is a 5nm chip with current performance on PVT units closer to SD870, they are not trying to match SD888. Google's focus is on ML & so the raw AI performance is matched to that of other leading mobile chips. Plus that Mali GPU is performing good under stress.

— 𓆩Yogesh𓆪 (@heyitsyogesh) May 24, 2021
According to yesterday's report by Weinbach, the Google Pixel 6 will have a FullHD+ display with a maximum refresh rate of 120Hz, while the Pixel 6 Pro will have a QHD+ with the same 120Hz refresh.
S
It looks very very good. Beautiful.
A
I upgraded from the Pixel 2XL to the 5 about 4 months ago. Over all the 2XL was a faster and nicer phone. I've gotten used to the gestures and I can say I like them. The P5 only came in one size and was a good deal smaller than the 2XL. I miss t...
?
Google should shrink this model. Width is only 1mm shorter than 6pro.
ADVERTISEMENTS