Today is Note7 day - only if you've been living under a rock you don't already know that Samsung's latest flagship phablet got official. We have already told you when you can expect to purchase (and pre-order) it in the US, but what about Europe?
Unlike some past Samsung smartphone launches, the Note7 isn't going to become available in Europe at the same time as the US, where pre-orders start tomorrow and the phone will be out on August 19. Instead, over in Europe it will be officially up for pre-order starting on August 16. And you can expect it to be in stock on September 2.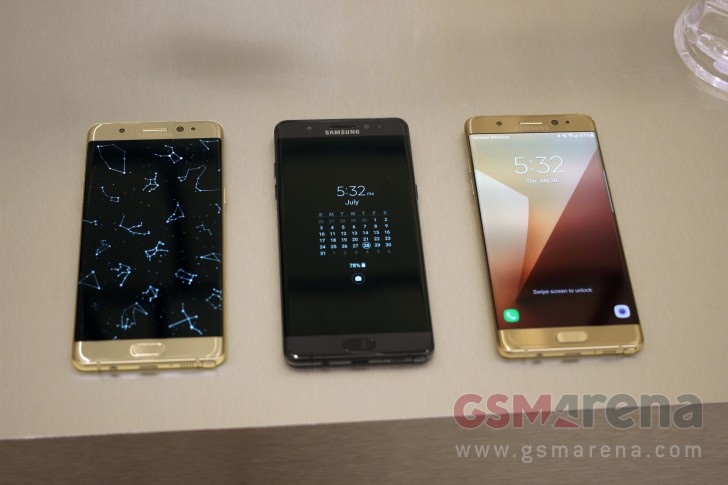 That's a two week delay compared to the US release, which doesn't sound great - but then consider that its predecessor, the Note5, initially didn't launch in Europe in an official manner. The Note5 only made it to the continent early this year, after Samsung's plan to make the S6 edge+ the only high-end phablet for Europe backfired. Needless to say, the Korean company won't be making that mistake again.
In the UK, one online retailer has revealed that the recommended retail pricing for the Galaxy Note7 is a whopping £699. So if you want one, you should probably start saving up before September comes.
And speaking of the UK, the choice of freebies you get accompanying your Note7 purchase is different than for the US. Whereas in the States you pick from a Gear Fit2 wearable and a 256GB microSD card, in the UK the options will reportedly be that same microSD card or a new Gear VR. However, this particular info is unconfirmed for now.
C
When you will stop complaining kid !
D
Pretty much. Huawei, Asus, ZTE, LeeCo and Apple can all manage to deliver phones with 128gb options and on phones that are much cheaper. Samsung seemingly can't be bothered with what those awful nuisance things called customers might actually want.
?
If i didn't have phone at all, perhaps i could have a choice between s6, a5 and note7, otherwise note7 it doesn't attract me that much considered mashmallow heavy hungry battery consumption compared to lolypop that consume as twice as much.... i say...