Galaxy Note9 to shoot 960fps video footage for twice as long as the S9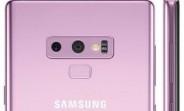 According to a new rumor out of Twitter, Samsung's upcoming Galaxy Note9 will be capable of shooting 960fps video for 0.4 seconds. That's twice as long as the Galaxy S9 and S9+ can do it for, namely 0.2 seconds.
Don't take this for granted just yet, but if it pans out then there's the potential for even more interesting super slow-mo videos to be created by owners of the Note9.
The phone has been leaking extensively in the past few days, ahead of its announcement which is taking place on August 9. It will pack a big 4,000 mAh battery, an S Pen that's Bluetooth enabled for the first time, and an Infinity Display marginally bigger than the one in the S9+.
P
We should most likely have an embedded microprocessor that would compress the images very quickly before offloading the images from the eDRAM to the main storage. This is the most cost-effective solution which would probably add about 5$ to the BOM (...
S
That much RAM?? Well I only imagine that 32GB DRAM is enough for at least 30s of capturing 960fps videos continuously. The main point here is to keep the recording times to very usable extents, where even a total of 5s 960fps continuous recording wou...
S
From my perspective as a non-Sony user, I know how bad it feels when OEMs ditch our favorite custom UI features that we have been using for years. However, changes must be done, and the only way for Sony to make the software updates to arrive as ea...