While Samsung announced that it won't be having a press conference at the MWC, the company said it will still have exciting new gadgets to show us at the industry's largest event. And now we might have learned the name of their star device for the show - Galaxy Note 10.1
The leak comes from an official Samsung invitation sent out to developers for the Samsung Developer Day at MWC, so it's a pretty certain deal. The invitation lists the latest technology, which will be available at the said developer event and mentions Galaxy Note 10.1.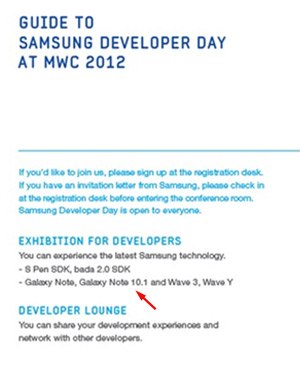 The Samsung Developer Day invitation
There's also this casting call for an upcoming Samsung commercial, which seeks a teen student to operate the Samsung Galaxy Note 10.1. If those are both typos, then that's one helluva coincidence.

The casting ad
There are no specs of the Galaxy Note 10.1 mentioned, but the name gives away some of the most important stuff. The 10.1" member of the newly created Note lineup should offer S Pen support, just like the original Galaxy Note. We've been hearing rumors about a larger slate with S Pen support for a while now and it looks like MWC is where it will make its public debut.
We'll be keeping an ear on the ground for more information about the rumored slate and we'll make sure to keep you updated if something new comes up.
?
whats the difference between note and tab??
D
Then your Note was a bad unit. I have it and it is buttery smooth...Go back to your 2007 apple phone...
d
Ha ha.. apple is nothing but a big joke.. I definitely agree that it's built quality is unbeatable.. but when it comes to features and the amount of work a smart phone can can get done for you, the android is the undisputed king.. IOS is a big joke.....
ADVERTISEMENTS