We saw it with previous generations of Galaxy flagships – equalized scores despite very different chipsets. This year the Galaxy Note 4 and Galaxy Note Edge will come with either a Snapdragon 805 or an Exynos 5433 SoC and their AnTuTu scores are practically equal.
The Samsung N915L, aka Galaxy Note Edge with Exynos, scored just under 48,000 points while the Samsung N910S, aka Galaxy Note 4 with Snapdragon, got just over 48,000 points. The benchmark seems to show negligible difference in multi-core performance and RAM speed.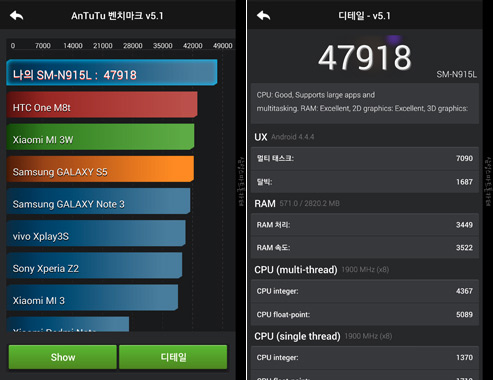 The multi-core result is interesting because the Exynos 5433 is SMP-enabled meaning it can run all eight cores simultaneously, even if they are at a lower clockspeed than the four Krait 450 cores in the Snapdragon 805.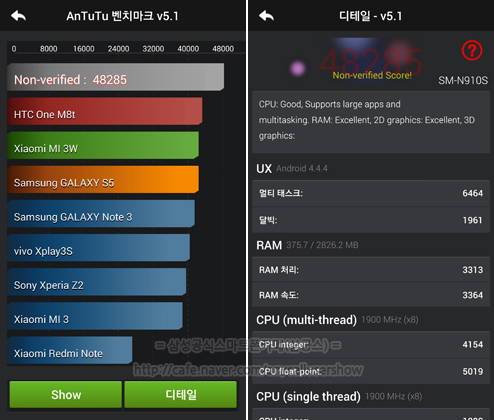 With similar CPU and RAM either scores, the GPU score can't be very different – it's Mali-T760 vs. Adreno 420, both rendering at 1,440 x 2,560 pixels (the curved part of the Edge screen is not supported by the benchmark). We'd like to run a full battery of tests before drawing a conclusion but it doesn't seem like there will be any performance difference between the two models (Note 4 and Note Edge) and their two sub-versions.
You can find more info on both the Galaxy Note 4 and Galaxy Note Edge from our hands-on.
A
You guys are dumb. It would be a diagrace if the people here in GSM Arena do not use Antutu X (anti cheat version). FYI, the new Exynos 5433 SoC runs on a big.LITLE architechture, that means that 4 cores of A54 and 4 cores of A57 will run in tendeem ...
d
that's why there is antutu x ...
ADVERTISEMENTS