The Samsung Galaxy Note 4 launch is only a few weeks away, but the phablet is obviously too impatient to wait that long. After posing for the camera the other day, it has now made its way to the window of an Indonesian online shop, confirming a few interesting details in the process.
For one, we got our first indication of what the Samsung Galaxy Note 4 might cost. We've learned not to read too much into such preliminary listings since they usually feature inflated price tags as the shops try to make sure that such publicity stunts won't end up costing them money. The usual strategy is to list a smartphone at a price that's certain to be higher than its actual one, so you don't risk anything when pre-orders are placed.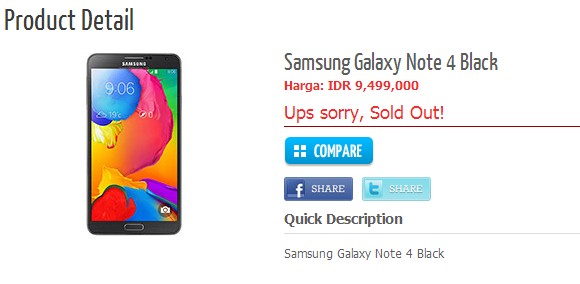 However, the case is rather different here - erafone has posted the listing with at IDR 9,499,000, which translates to €600. And given the Note's family history, that's very close to what the Note 4 will retail for - the fact that the store went so close suggests it may already have some preliminary information by Samsung.
Another interesting bit that gives credence to the listing is the CPU field, which lists two different versions. Now it's not hard to guess that the Note 4 will be available in Exynos and Snapdragon flavors, but here we have the exact version numbers and clock speeds of the CPUs so again it might be more than just shooting in the dark.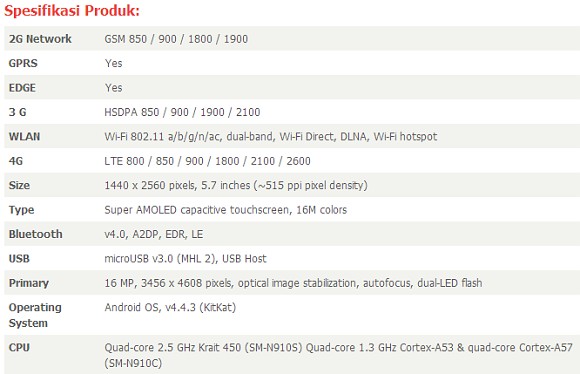 Apparently the Snapdragon 805-powered Samsung Galaxy Note 4 will have the N910S designation, while the Exynos-running units will go by N910C. And both of them will have 4GB of RAM and a 16MP OIS camera.
The Samsung Galaxy Note 4 announcement is taking place on September 3 and we'll be there to cover it live, so make sure you come back when the time comes.
Thanks, geekindapink, for sending this in!
D
It would be great if they throw in the same functionality in both the snapdragon and exynos models making them equal functionality wise- lte, video recording and stuff. But i dont get on the part where the snapdragon is a 32bit but the exynos is a 64...
t
"64 Bit is pretty pointless at the moment and in the near future." A rather frivolous statement, considering that Android L's code drop should be happening in like what 1 or 2 months away with ART runtime being prepped for 64 bit and a...
?
Actually, the screen is the same size as the Note 3 which is a good thing. 64 Bit is pretty pointless at the moment and in the near future. Full size USB??? How thick do you want your phone. A simple $2 adapter does the trick. Mini Dis...
ADVERTISEMENTS