Samsung has already begun testing the Galaxy S9 and S9+ in the US and South Korea with a software preview of Android 9.0 on the phones along with Samsung's new One UI as part of the deal. Since then, the Samsung Galaxy Note9 has seen registrations for the beta in the United States but hadn't yet pushed the firmware until today.
As of today, Samsung has opened registrations and has begun pushing the beta firmware OTA for the Samsung Galaxy Note9 in India and Germany, as well as finally began pushing the OTA to those who registered on the Samsung + app in the United States.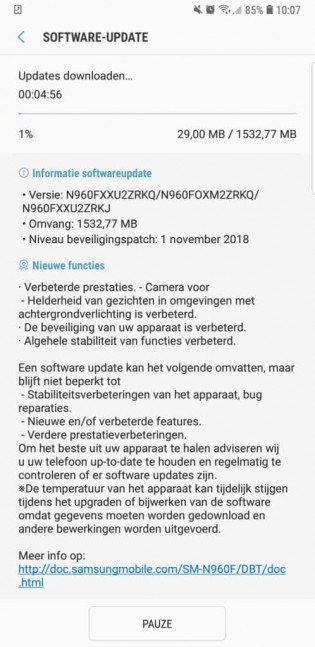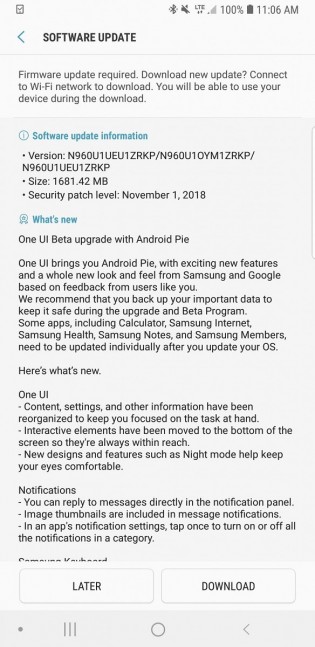 Changelogs in Dutch and English
The update weighs in at around 1,532 MB for Germany and about 1,681 MB for the US-based Note. Note that only the US Unlocked variant of the Note9 is eligible for the beta at this time. For those in India and Germany, you'll need to sign up in the Samsung Members app as soon as possible since Samsung only allows a certain number of participants in its beta programs.
The new beta brings support for Unicode 11.0 emojis, new clock styles, general UI changes to aesthetic, Samsung DeX gets dual-display support, and of most of Samsung's stock apps get a new look.
It shouldn't be too long before other countries in Europe begin to receive eligibility to participate in the Android Pie beta on the Galaxy Note9. Have you installed the beta on either Note9 or S9(+)? Let us know what you think of it in the comments!
a
update for u.a.e cutomers
P
How stable is the built ?