Samsung Galaxy S10+ hits GeekBench again, Exynos 9820 scores improving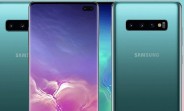 The Samsung Galaxy S10's launch day is nearing and a quick search in our news section will tell you that a lot of info on it (or, rather, the three of them) has already come to light. Until we get to hold one in our hands, however, every extra detail is welcome and the latest bit is a GeekBench score of the Exynos 9820 version of the S10+.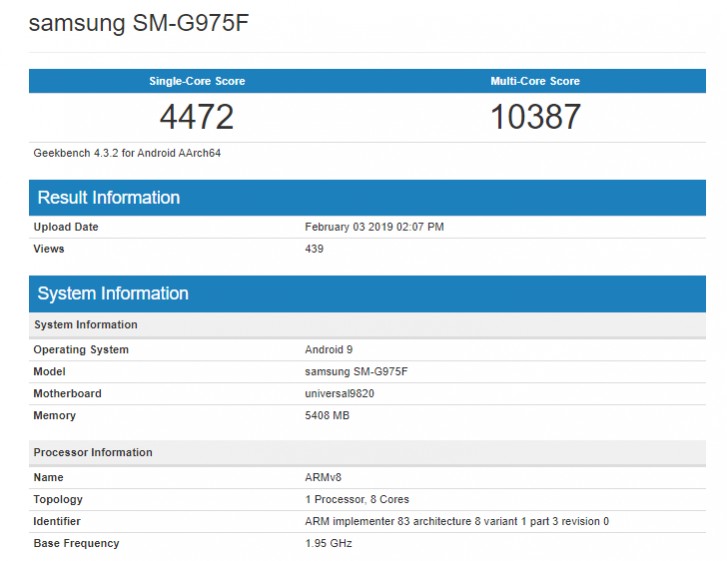 It's not the first GeekBench listing to come out, you'll quickly note - there was the initial one of a Snapdragon S10+ and then an Exynos S10 was also spotted a couple of weeks ago. This latest entry shows improved performance, however, which is only natural as the software is approaching its final state.
GeekBench 4.1 (multi-core)
Higher is better
Apple iPhone XS Max
11432
Samsung Galaxy S10+ (E9820)
10387
Samsung Galaxy S10+ (S855)
10256
Huawei Mate 20
9793
Huawei Mate 20 Pro
9712
Samsung Galaxy S10 (E9820)
9570
Xiaomi Mi Mix 3
9065
Samsung Galaxy Note9
9026
OnePlus 6T McLaren Edition
9005
Samsung Galaxy S9+
8883
A quick comparison shows that this S10+ posts some 9% better multi-core results than the S10 before it. This lets the Exynos version not only catch up with the Snapdragon one, but even pass it by about 100pts - a generally meaningless difference, but one that will please Exynos fans.
The Exynos version was already significantly more powerful in the single-core test than the Snapdragon one, but the latest result is also ever so slightly better too.
GeekBench 4.1 (single-core)
Higher is better
Apple iPhone XS Max
4777
Samsung Galaxy S10+ (E9820)
4472
Samsung Galaxy S10 (E9820)
4382
Samsung Galaxy S9+
3771
Samsung Galaxy Note9
3642
Samsung Galaxy S10+ (S855)
3413
Huawei Mate 20 Pro
3291
Huawei Mate 20
3284
Xiaomi Mi Mix 3
2429
OnePlus 6T McLaren Edition
2376
With so little time left until the Galaxy S10 goes official, we can expect that these results will be the ones we'd get out of final units. Even so, it wouldn't hurt to wait a few more weeks before passing judgment.
?
😆😆😆 Samsung knows they can't compete in their chipset offerings. They just suck!!. Nothing can change that
d
Looks like the Snapdragon 855 performs slightly better in multicore and not quite as good in singlecore Geekbench. But both are close to each other as long as they thermally throttle ever. Summer usage is the determining factor!
?
That's only because of the release of the new iPhone X at the end of 2017 which has helped Apple acquire people's interest in their devices... for now.
ADVERTISEMENTS