Galaxy S10's UD fingerprint reader won't work with screen protectors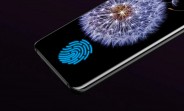 Troubling news for those of you who want to keep a screen protector on your phones for some extra peace of mind. According to the latest rumor, the Galaxy S10's under-display fingerprint reader won't work with screen protectors.
The vanilla Galaxy S10 and the Galaxy S10+ will make use of a new in-display fingerprint tech. It is believed that they will introduce the ultrasonic fingerprint technology that tends to be more reliable, faster and more accurate than the currently existing optical fingerprint tech. However, there might be a big downside as per this tweet.
We have tested our cases on real #GalaxyS10 phones. The in-screen fingerprint does not support screen protector. So our vanguard will have no built in screen protector

— Armadillotek (@armadillotek) January 16, 2019
Armadilotek claims to have tested its products on the Galaxy S10 and all screen protectors prevented the fingerprint scanner from operating properly. But there might be more to it than we think.
First off, we don't know if the company tested all possible materials and which ones they tested. There's glass and there's plastic. Also, Samsung could come up with in-house screen protectors that work. We'll know for sure once the phones hit the market - probably in early March.
K
I am using samsung galaxy phones 2009 ago and I've never used screen protector. I guess only pure and coward guys do that.
K
i was considering buying S10+ but if screen protector cannot be used then sorry no to your product and there are much better options available then to buy an expensive piece of glass that cannot be protected
V
I am sure Samsung will fixs this issue. Because it will be really dumb to sacrifies screen protector, considering it is most fragile part of the phone, I would definitely not consider this phone if I can't put screen protector.
ADVERTISEMENTS