Galaxy S21 Ultra to have a microSD card slot, S21 and S21+ to miss out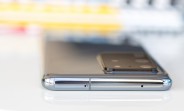 Samsung may be removing the bundled charger and earphones with its Galaxy S21 lineup and it seems that won't be the only omission. Two weeks ago we got a detailed spec leak on the Galaxy S21 and S21+ which claimed neither device will come with a microSD card slot and now Roland Quandt is confirming these speculations.
Disclaimer #2: This is for Europe. Do not have any info on other regions.

— Roland Quandt (@rquandt) January 4, 2021
According to Quandt, the Galaxy S21 Ultra will be the only S21 member to come with expandable memory in Europe. It remains to be seen if this will be the case in other regions though it's highly likely this will be the case.
In addition, we get more confirmation that the 512GB storage variant of the S21 Ultra will come with a whopping 16GB RAM while the 128 and 256GB version will only come with 12GB RAM. European pricing for the Galaxy S21 series is expected to start at €850 for the S21, €1,049 for the S21+ and €1,400 for the S21 Ultra.
So yeah, the top-end Galaxy S21 Ultra w/ 512GB flash storage will indeed have 16 GB RAM.

— Roland Quandt (@rquandt) January 4, 2021
J
2-4gb ram? Are you mad? It's power user phone... 8gb+ is useful
C
Really? 512Gb? I need to carry more on my phone. I need to swap the storage regularly. I need to make sure my personal data is not stored in some 3rd party money grubbing entity cloud storage. My data is mine, not Microsoft's OR Samsung's. ...
L
I used to be a Motorola guy until they lost their SD card now I'm going to be and ex-Samsung guy. You have a large fan base because you were different than I-phone. If you are going to try to copy I-phone. I am just going to buy an I-phone or...