Samsung is working on a couple of special editions for its Galaxy S4 flagship - a Developer Edition and a Google Edition. The Developer Edition has cropped up on Samsung's web site for both AT&T and Verizon.
What's the difference between a Developer Edition and a regular Galaxy S4 you ask? Well, in the US the S4 bootloader is going to be locked, so putting on a custom ROM will be more difficult (but not impossible). This special edition comes with the bootloader unlocked to make it easier for devs to tweak the phone to their needs.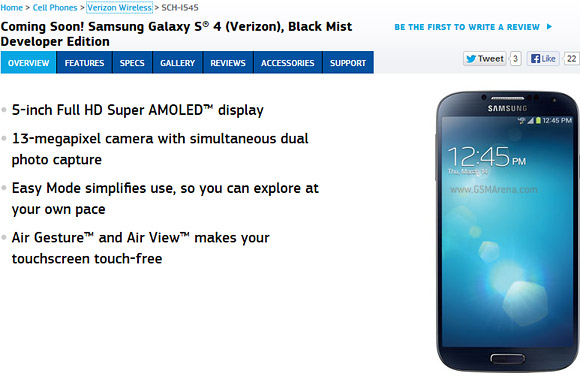 The phones for AT&T and Verizon are the 16GB versions and seem to come only in Black Mist color. There's no pricing on either phone, both are labeled "Coming Soon!". Actually, the page for the AT&T Samsung Galaxy S4 Developer Edition has been pulled down.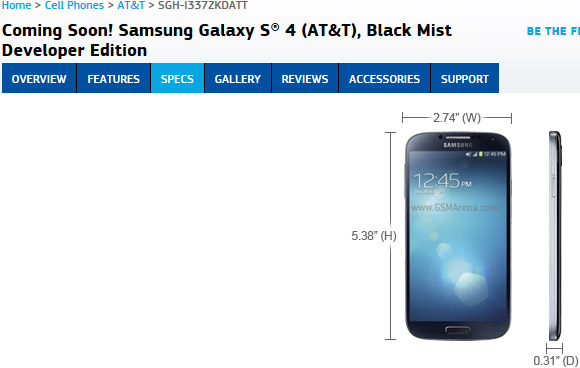 AT&T and T-Mobile will be getting another version of the Galaxy S4 with an unlocked bootloader - the Google Edition, which comes with stock Android.
r
If I'm going to pay full price off contract, then I'd personally rather have the unlocked one... The dev edition is not a new concept.
S
Naic hensed ..................
n
A real developer don't need a dev. version unless it's an early preview device. A dev. would rather unlock the cheaper (locked) device, if available. Wrong move!
ADVERTISEMENTS