The latest highlight in what has turned out to be a record-breaking sales season for Samsung is its unprecedented performance in the US last month. There its Galaxy S4 flagship was finally able to outsell the Apple iPhone 5 across three of the four major carriers.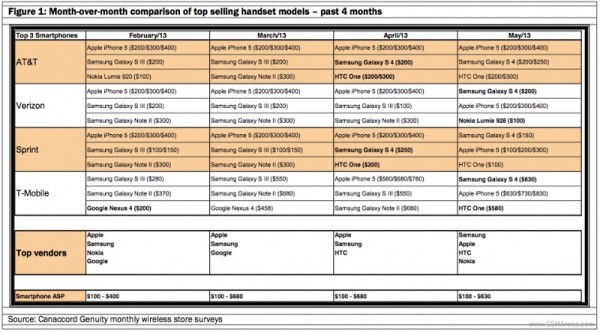 Verizon, Sprint, and T-Mobile all saw the Galaxy S4 jump ahead of the iPhone 5 for the first time in May, with the Apple flagship falling in second. AT&T, where the iPhone had for a long time enjoyed exclusivity in the past, was the only carrier where the Android-powered beast couldn't jump ahead.
The US market has long been a bastion of strong sales of the Cupertino-based tech giant, and while it's surely not losing too much sleep over the latest figures, there's undoubtedly an added sense of urgency behind closed doors - particularly in the iOS department.
Apple users have for quite some time been clamoring for the most recent iteration of the mobile OS, iOS 7, with complaints that the pervious major build simply does not have enough innovation to keep things fresh. We'll see what Apple has in store on June 10, when WWDC kicks off.
n
I have a Samsung galaxy s4 and I tell you it's great phone whit a bunch of cool apps ....
?
Did you even really try it? It doesn't seem so at all. And all phones heat up. You precious Iphone too. Especially first few models. You expect a sensor to work in the dark???? Design is very smart actually. It is shaped to fit in you hand bett...
D
Yeah, cause cellphone is as good as screen size and res.. Wake up dude.
ADVERTISEMENTS