According to reports from various industry sources Samsung has decided to skip the iris scanner for its upcoming Galaxy S5 flagship, but instead will focus on fingerprint scanning technology.
According to a KoreanHerald source, who wished to remain unnamed, Samsung is testing different types of biometric scanners but has deemed the iris (read eye) an unintuitive one. Just imagine getting your eye close to the front of the device every time you want to unlock it. Now imaging doing so in a dark room, cinema or when you're wearing sunglasses.
Such a scanner will also involve placing a new, long-range, camera module inside the device - either one for selfies and one for scanning or a more elaborate one for both tasks.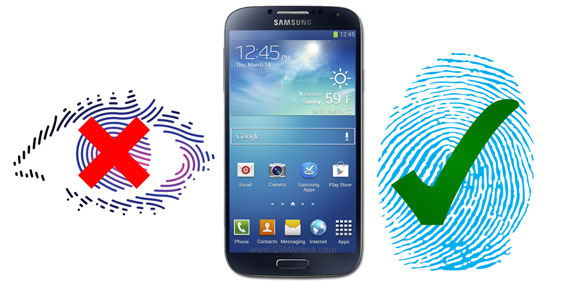 Despite executive vice president Lee Young-hee's claim that the company is studying iris recognition as an option, it will reportedly focus instead on embedding a fingerprint scanner under the display so that the device will unlock once you touch it.
Biometric companies IriTech Inc. and Sambon Precision and Electronics Co. both deny reports of having talks with Samsung about using their iris-scanning technology. Swedish fingerprint-scanning firm Fingerprint Cards AB, however, has acknowledged that it's talking with major smartphone makers, including Korean ones. Keep in mind that LG is also reportedly working on embedding a fingerprint scanner in its LG G3 smartphone, that is coming this year.
Apple revived the fingerprint scanner by using it in their iPhone 5s smartphone and others, like HTC, have been working on implementing the technology even before Apple. As it turned out, though, the HTC One Max arrived to the market later than Apple's flagship.
s
Apple copying Samsung again ! They traveled in time on the future and saw Samsung fingerprint scanner and 64 bit chip and then they came back to the present and made one themselves ! This has to be the only logical explanation . They even have a prod...
S
So what you are saying Samsung was a good company that used to be be ahead of the game, now its just copying Apple ?
?
As my comment right before yours shows...IOS updates are nothing to right home about. And yes Samsung can do this. Even though the S1 sadly only made it to Gingerbread it was still a great device. The S2 made it to Jelly Bean. And the S3 is making...