New information about the Samsung Galaxy S5 mini (SM-G800H) has surfaced from two sources, but unfortunately it contradicts in a big way. One source says it will have a 4.5" screen and Snapdragon 800 (making it a true super-mini), the other says 4.8" screen and Snapdragon 400 (not much of either super or mini).
The first source points to a User Agent profile that lists the CPU clockspeed as 2.3GHz, which is typical of a Snapdragon 800/801 chipset. The screen size is claimed to be 4.5" by the source, with a resolution of 720p (backed by the UAprof).

The second source is GFXBench, which detected a Snapdragon 400 chipset with quad-core Cortex-A7 CPU at 1.4GHz and Adreno 305. GFX also claims a 4.8" 720p screen. This may be inaccurate as software usually doesn't get correct readings of pixel density and screen size.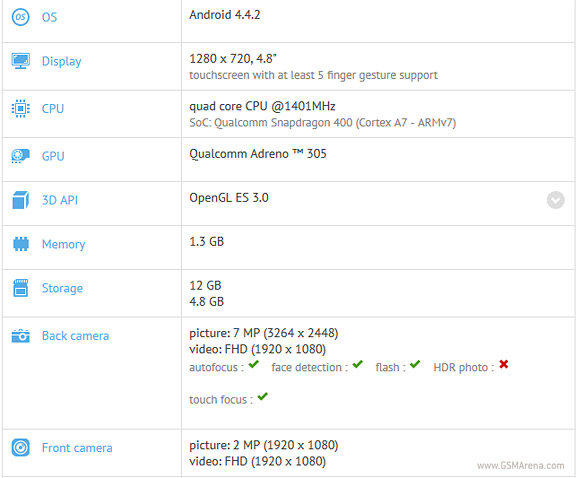 It can't mistake Snapdragon 400 and 800, though. Since the phone is variously called "Galaxy S5 mini" and "Galaxy S5 Dx", this might suggest two different versions. There were such rumors for the big S5 too, which proved false, so take this with a pinch of salt.
Anyway, what both sources agree on is that the phone will pack an 8MP camera with 1080p video recording, 2MP / 1080p front-facing camera, 1.5GB RAM and 16GB storage (12GB user available). There should be a microSD card slot too.
Rumors also point to an IP67 rating for the S5 mini. Leaked photos show a very Galaxy S5-like design, aside from the heart rate monitor on the back.
D
price should be less than 20k other wise it will be flop in Indian market... if we pay for 30k for this mini why not we go for a big one of other brandzzz....
?
My opinion is if its 400 snapdragon thenh deffinately its waste of money,kill snapdragon and kill mediatek.
c
the 4.8 inch its the new s5 neo guys :)
ADVERTISEMENTS