The Samsung Galaxy S5 scored more sales in its launch weekend than the iPhone 5s in its respective period. More specifically, the Galaxy S5 snug 25% and 18% of the smartphone market share in the USA and Canada for that period. The iPhone 5s did slightly worse at 18% market share in the US and 13% in Canada.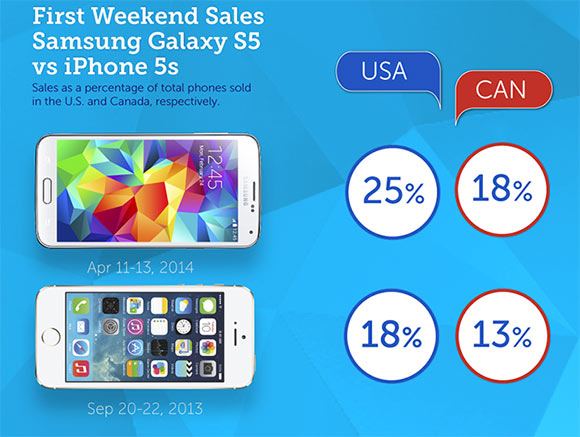 The interesting statistics come from company iQmetrix, which specializes in retail management software for the wireless industry in the US and Canada. It collected data from over 15,000 stores and compares the launch weekends of the two rivals - September 20-22, 2013 for the iPhone 5s and April 11-13 for the Galaxy S5.
A more detailed analysis reveals that the Galaxy S5 did best in the Southern US region, where from Aprill 11-13 the phone accounted for 41% of the overall phone sales. In the Northeast that number is 30%, 23% in the Midwest and 21% in the West.
iQmetrix also provided data of the 6-month lead-up period before the two flagships hit the market. From May 2013 to October 2013 the iPhone 5 sales dropped progressively as customers patiently awaited the iPhone 5s announcement. Interestingly, that's not the case for the Galaxy S4 (October 2013 to March 2014), which saw a boost in sales thanks to the Holiday shopping season.
Check out the full infographic by clicking the image below.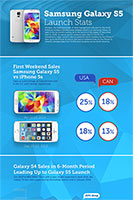 ?
That was not your point. At least not the point you portrayed. The point you portrayed in you thinking you are so smart was that because HTC uses less functions and over a couple minutes has a few seconds speed advantage that somehow that means the...
?
It is not accurate at all, even in their own tests the results differ a lot for the same phone. It is however likely that with default settings of having all the additional features on the galaxy s5 is slightly slower. A proper test would have done a...
?
You complain about old phones getting updates after new ones but you have a brand new one. You can complain about this in 2 years but not now.