The upcoming Samsung Galaxy S6 hasn't yet surfaced in live images, but based on numerous leaks, we can now paint a pretty accurate picture. Yet it seems that case manufacturers have precise details ahead of launch. After two rounds of case renderings of yesterday and the day before, now we're being treated to a set of drawings, detailing the dimensions of the future flagship.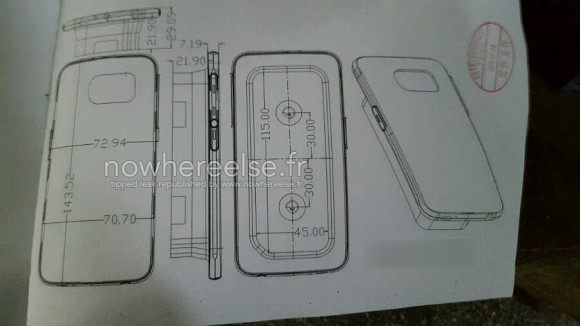 The schematics put to rest the fears of some that the footprint of the device will grow beyond what's manageable for one-hand use. Samsung have the Galaxy Note 4 in phablet territory, and they're maintaining the differentiation.
The case inner dimensions at 143.5 x 70.7 x 7.2mm, which should be more or less the actual dimensions of Galaxy S6, are virtually identical to the current Galaxy S5's 142 x 72.5 x 8.1mm, when it comes to footprint. The 1mm difference in thickness should be pretty tangible, though.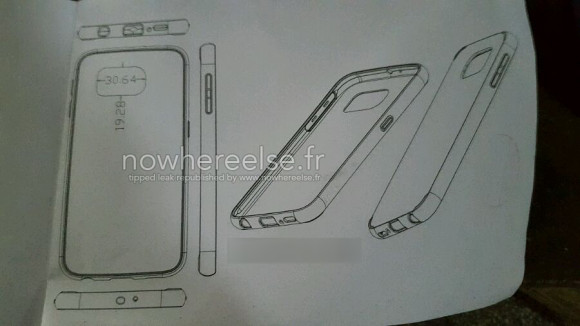 Digging down further into the details, the precise dimensions of the cutout on the back reveal a pretty large camera and sensor cluster and confirm the change of layout. In typical Samsung fashion, the left side is home to the volume rocker, while the power button is on the right.
The bottom cutout arrangement leaves room for a microphone, USB port and a speaker, which was on the back the previous generation. The top will house a 3.5mm headphone jack and a secondary noise-cancelling microphone. The drawings are accompanied by an actual manufactured unit, which you can see below.
The three case leaks are very much in concert, so the Samsung Galaxy S6 design may very well be final already.
A
Sammy must come up with full metal body cover and with maximum memory capacity... then definetly its fortune will change and consumers will be happy.
h
Yep looks similar to the iPhone, leaked photos etc on most phone sites & Twitter.
D
If you can squeeze your brain, you might understand that 5.5" screen in this phone size is out of the question even if there are NO BEZELS AT ALL. First step to do , is : STOP READING the tech media's BS rumors.